Forty-eight percent of the Marion County jail population is Black, despite only making up 27% of the population, according to estimates from the American Community Survey. SAVI Talks hosted a webinar June 16 to explore the Marion County jail population, what their length of stay looks like, policy efforts that support jail diversion and what people can do to reduce the number of people incarcerated.
In 2015, Indiana moved low-level felons to serve their sentences in local jails rather than prisons. Indiana's jail population rose by one-third, and overcrowding became more common in 2016 and 2017. Community advocates, the city of Indianapolis, Indianapolis Metropolitan Police Department, health providers and courts enacted policy changes to allow those charged with a crime to receive treatment or reduced jail time while waiting for trial. Rebecca Nannery, senior research analyst at IUPUI's Polis Center, which developed SAVI, and Matt Nowlin, interim community analysis manager, analyzed more than 283,000 bookings into Marion County jails between 2013 and 2021 and presented their research during the webinar.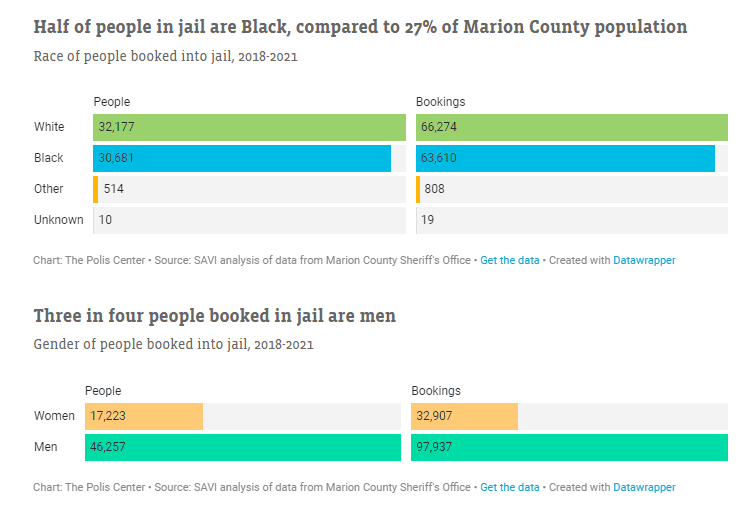 Between 2018 and 2021, more than 63,000 people were booked a total of 131,000 times. Of that, 59% were booked only once, 41% multiple times, and 8.5% were booked five times or more.
Three in four people booked into jail were men, and about half of them were Black men. Hispanic and Latino people had slightly fewer bookings, but ethnicity was not reliably captured, according to the researchers. About 10,000 bookings don't have an indicated ethnicity.
Half of the people booked into jail remained there for three days or fewer: 29% remained one day, 8.6% remained less than one day, and 11% remained for two days. The maximum length of stay between 2018 and 2021 was 3.8 years. The average length of stay was three weeks.
BAIL REFORM: The Bail Project issues report to judges, responds to criticism
Most of the jail bookings remained short, but there were a small number of exceptionally long stays that inflate the average. The median length of stay was three days.
Race and gender can be strong indicators for how long someone will stay in jail, according to the research. Black men and white men stayed in jail for a median of three days, while the median for white women was two days and Black women was one day.
The most severe charge for 39% of bookings was a misdemeanor, while 60% were felonies. Low-level felonies and high-level misdemeanors made up most of the jail bookings. Length of stay also varied between violent and nonviolent charges because violent charges are not a strong predictor of length of stay. Rather, gender and race are. For high-level felonies, race, gender and mental health conditions explained about 17% of the difference in stay, and for low-level felonies that number was about 9%, Nannery said.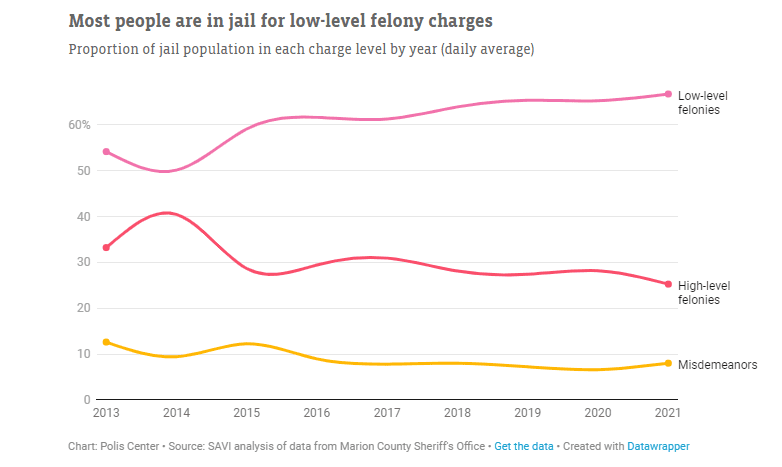 One-fifth of people booked into jail had mental health or substance abuse problems, researchers found. That also produced a significant difference in length of stay, according to Nannery. People with mental health issues tended to get booked for more severe charges such as felonies, making their length of stay longer.
How can disparities be solved?
Three panelists also discussed policy implications and ways to change the disparities in jail. Implementing best practices in jail diversion is important for keeping the jail population low, Nannery said.
The city and state have already taken some steps, including the Mobile Crisis Assistance Team that responds to mental health calls, bail reform from the Indiana Supreme Court and a pretrial risk assessment program created in January 2020. However, panelists said there are many ways to improve strategies and keep people out of jail.
Panelists were Bianca Harris, founder and owner of The Phoenix Nicholas Center; Josh Riddick, organizer for Faith in Indiana; and James Wilson of Circle Up Indy.
Marion County needs to look at things from a prevention standpoint rather than a reactionary one, Harris said.
"We have to look systemically at where are the holes in the access, resources and knowledge and what populations they're grossly affecting and why are they grossly affecting those populations?" Harris said.
Lack of resources can create generational, mental and physical trauma, Riddick said. People need to listen to and learn from those with lived experiences, he said.
To reduce the Marion County jail population, the research suggests investing in clinical-led support that does not require law enforcement, expanding practices such as court summons and tickets, collecting data, and continuing to offer pretrial risk assessment.
"If we can touch on the root causes, I assure you you would change even high numbers of incarceration," Wilson said. "There won't be a lot of incarceration because they have true developmental opportunities."
Contact staff writer Jayden Kennett at 317-762-7847 or email at jaydenk@indyrecorder.com. Follow her on Twitter @JournoJay.