Something as simple as getting out to walk thirty minutes a day is the basis for what GirlTrek Indianapolis believes can start a healthier lifestyle.
The international organization has been around for decades, and in Indianapolis, it is creating a lifetime of sisterhood rooted in the health and wellness of Black womanhood.
"We're walking. That is as simple as it is, but what triggered me to be a part of it is the statistic that over 50% of Black women at this rate will die of health issues, being overweight, heart failure, and it's connected to the fact that we aren't able to prioritize selfcare," said Crew Leader Vivian Bell.
RELATED: Bonding while Biking; Black Girls Do Bike Indy rides out
Based off of Harriett Tubman's walk to freedom, the local organization's tagline is that they can walk for health.
Assistant Crew Leader Alicia Sims said walking 30 minutes a day can add another year to your life.
"We kicked off in May, and that set off sub crews where we spread out throughout the city. There's a Downtown, Northeast, Northwest, East and Southside crew," said Sims.
Each crew does weekly walks.
GirlTrek Indianapolis
Bell said in 2019 she initially saw an advertisement for GirlTrek International online.
When she looked for the closest group, she saw there was one in Cincinnati, Ohio; Indianapolis did not have a crew at the time.
So, she organized a new chapter for the city, and the first trek they had was in Broad Ripple, where forty-four women came out to participate.
The oldest participant was in her seventies; the youngest was a three-year-old.
"You start to have some of these deep conversations on these walks. There was this young lady who was on the brink of going back to her hometown because she hadn't connected with women. She's been here over a year, and this was her last attempt to connect," said Sims.
She said the young lady is now staying in the area and feels that she finally has a sisterhood of support.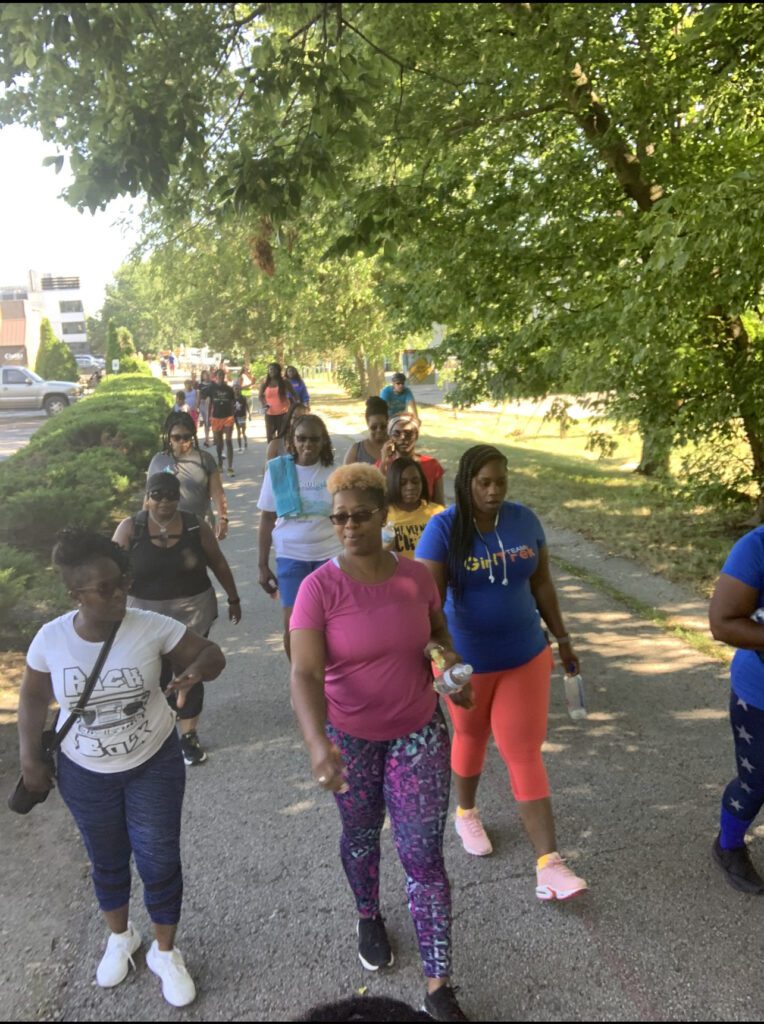 GirlTrek international
GirlTrek was started in 1996 by two college friends in Los Angeles, California. According to the organization's website, founders Morgan Dixon and Vanessa Garrison bonded over 2Pac, Nikki Giovanni and their inability to say "no" to smothered pork chops.
GirlTrek was never an "aha moment" but a shared belief in radical acts of self-care.
They challenged their friends and families to walk with them to heal their bodies and inspire the next generation to reclaim the streets of their neighborhoods.
This inspired decades of rallying support which has become a national movement that has even led the ladies to step foot in the White House.
In November 2020, the international organization reached a new milestone by inspiring over 1 million Black women to walk toward their healthiest, most fulfilled lives since the organization began.
Sims said that new members can join in on the self-care, sisterhood, initiative and conversations.
All GirlTrek Indianapolis crews will be hosting a meet and greet from 9:30-11 a.m. at Run for Life Performance & Physical Therapy, at 537 E Ohio St., Saturday, July 22.
"We're meeting with medical professionals who are making conversations about nutrition and healthy snacks and exchanging advice like, 'Did you know I tried this before I walked' or 'I tried this water,'" said Sims.
Knowing that systemic racism still affects African Americans, Bell said the walk symbolizes how Black people walked and marched during the civil rights era.
"I don't think people realize just how targeted we are as a people towards our health. This is a radical movement. You have 90% of people reporting that they have less depression; you have 60% of women saying they lost weight," said Bell.
Contact staff writer Jade Jackson at 317-607-5792 or by email jadej@indyrecorder.com. Follow her on Twitter @IAMJADEJACKSON