Dressed in historical gowns and bedazzled in period jewelry, three Indianapolis sisters are on a mission to bring historical Black figures to life through first person storytelling.
The Lewis Storytellers – Linda Lewis-Everett, Gloria Vaughn and Lana Lewis-Talib – have been dressing up as prominent historical figures for six years, performing and educating in local churches, colleges and theaters. Most of the time, you'll see Linda portraying Ida B. Wells-Barnett, while Gloria favors portraying Fannie Lou Hamer and Lana enjoys portraying Betty Shabazz, as each wears period appropriate clothing and each stays in character.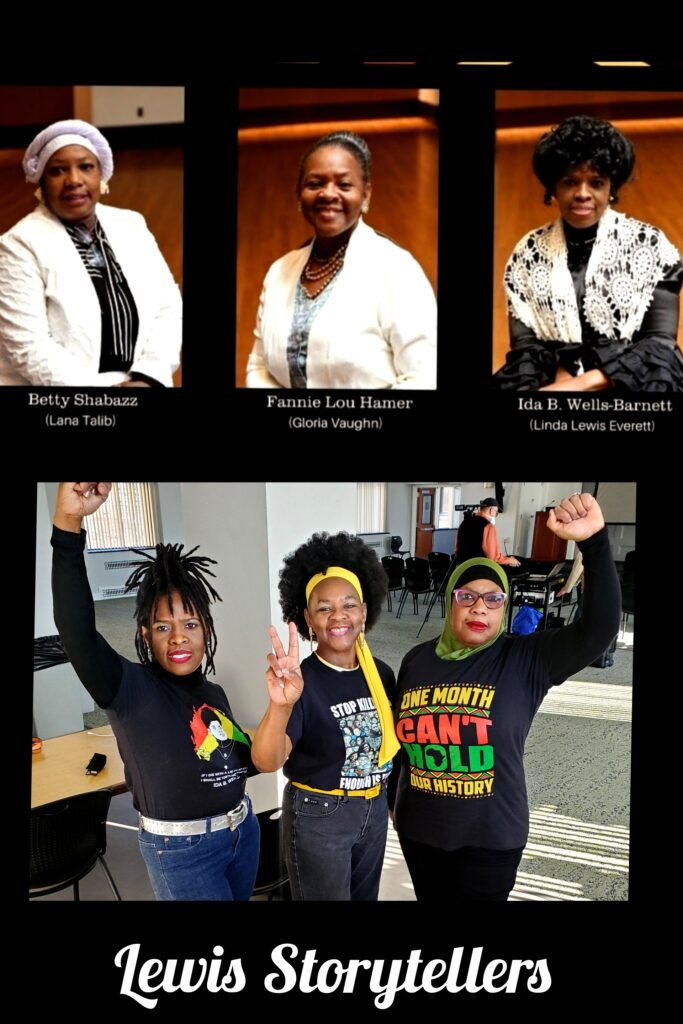 Among others, the three sisters said they gravitate towards their favorite portrayals naturally. 
Fannie Lou Hamer was prominently known for her works as a voting rights and women's rights activist. Her strength and resilience through court battles, threats and ridicule is what is so admirable and relatable to Gloria Vaughn, she said.
"I can't even recall how I gravitated towards her," Vaughn said. "It was supposed to be. I just inhaled her and just breathed in everything about her, and it was effortless to portray her. Ever since, it's just the same effortlessness."
Being able to portray historical figures and educate in an engaging and unique way has been rewarding, Vaughn said. 
"Every time I portray her, she comes forward. It's like,  I take a backseat and I just let her go," Vaughn said. " And she touches audiences and they respond to her pain, to her strength, to her purpose. So that is amazing to me." 
Portraying historical figures takes a lot of time and research. For Lana Lewis-Talib, she gravitated towards Betty Shabazz because of the lack of history about the educator and civil rights advocate. Because of this, Lewis-Talib said she has had to find alternative routes to portray Shabazz as accurately as possible such as taking bits and pieces from stories of people who have personally met her.
"What I can allow myself to do is get as much into the character as I can possibly get, just by the information that I have read, researched and actually had an opportunity to meet their daughter," Lewis-Talib said.
People should expect to be entertained and educated when watching the Lewis Storytellers perform, Lewis-Everett said. It's why people in the audience often ask so many questions after the show is over. The sisters said they enjoy educating people on Ida B. Wells and Betty Shabazz's roles as civil rights advocates.
"We want people to leave with a sense of enlightenment," Lewis-Everett said. "We want to give them a sense of who these people are." 
Sometimes their portrayals are so powerful, it moves people to tears. Lewis-Everett recalls an older gentleman being moved to tears during one show because he lived through the events the sisters were portraying of Fannie Lou Hamer. No matter the response, the Lewis sisters said they hope people leave their performances having learned something new about prominent Black women in the United States.
"Year round, we're raising the bar of education for Black history for our people," Lewis-Everett said. "It's really worth more than gold when you touch people, you know they're actually learning something and they will probably retain this. It's an awesome experience."
Each sister said they feel honored to be able to portray "the people who have paved the way," and take great pride in telling the stories of historical figures through their own eyes.
Contact staff writer Jayden Kennett 317-762-7847 or by email jaydenk@indyrecorder.com. Follow her on Twitter @JournoJay.
Note: This story has been updated to accurately reflect the names of the people in the story and facts associated with the Lewis Storytellers.