The ball is officially in Indianapolis' court as the city prepares to host the 2024 NBA All-Star Weekend. And in preparation for next year, more than 70 volunteers and community leaders traveled to Salt Lake City last weekend to observe, plan and gear up for the thousands of basketball fans coming to Indy next February.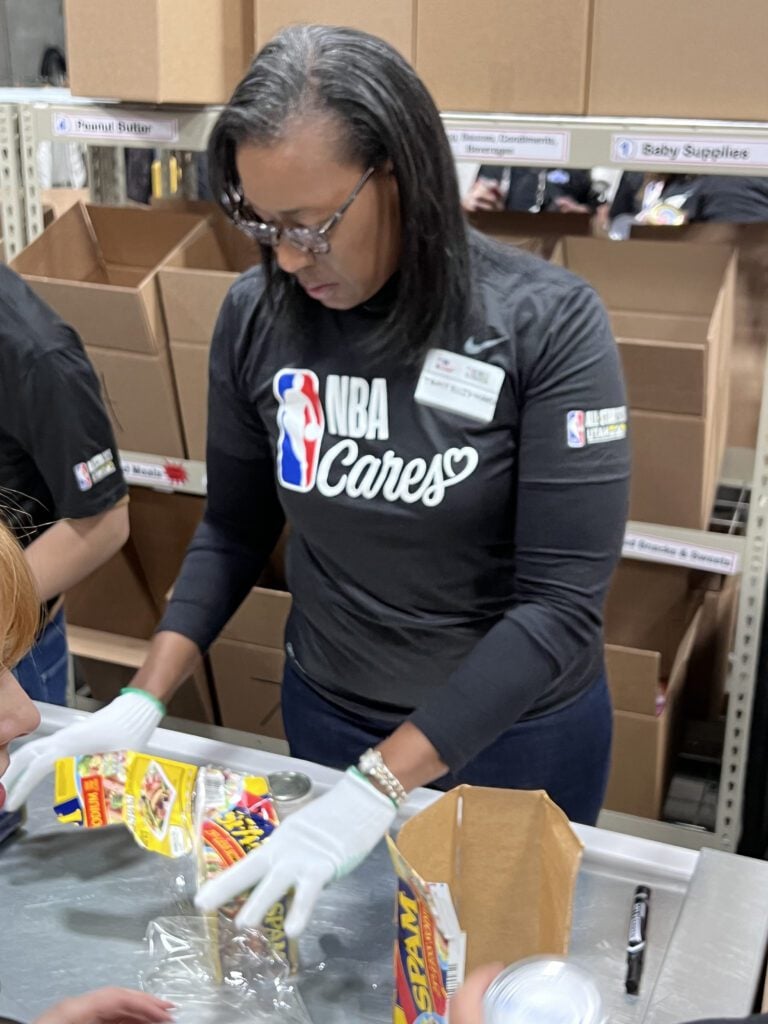 Corey Wilson, vice president for community engagement with Pacers Sports & Entertainment and executive director of the Pacers Foundation, was among those who traveled to experience the weekend first-hand. 
"It's really just been amazing to see the energy and commitment of the volunteers and the excitement," Wilson said. Wilson spent the weekend packing meals, watching the game, and learning many of the bits and pieces of what it takes to operate the busy All-Star Weekend.
"Everybody realizing that this event, the All-Star Weekend, is so much more than just a game that you see on TV on Sunday night."
While in Salt Lake City, Wilson witnessed the unveiling of a new STEM lab in an elementary school, watched more than 2000 kids learn how to play basketball, and attended a pitch competition aimed to elevate Black-owned businesses. 
On Feb. 16, the NBA Foundation Pitch Competition held a first-of-its-kind live pitch event for eight Black-owned entrepreneurs whose goal was to grow the next generation of Black businesses. Wilson said he was impressed by the competition and is "excited" to see if Indianapolis can do something similar.  
The group from Indianapolis wanted to see what worked and what didn't in Salt Lake City and, once back in Indy, apply that knowledge for next year. And part of that will be in engaging the community to better understand how they want the 2024 weekend to operate. 
"We got next," Wilson said, adding that "The big things are really just to understand and be on the ground to engage the local people, our volunteers and the league to make this experience the best one for the fans in Indianapolis."
Indianapolis was scheduled to host the 2021 All-Star Weekend but it was postposed because of the COVID-19 pandemic, said Greg Stowers, community engagement co-chair with Pacers Sports & Entertainment. 
In 2020, the NBA All-Star Legacy Project awarded 21 youth-serving organizations across Indiana with up to $50,000 each in anticipation of the 2021 Weekend. Three additional grants to create health and wellness or education projects were announced last year in anticipation of the weekend. 
Volunteers are working diligently behind the scenes to finalize a strategic plan and engage Hoosiers across the state. 
"I think no one does a sporting event better than the City of Indianapolis," Stowers said. "That comes from our ability to show up in spaces and places from a planning standpoint and have an understanding of how we envision things working." 
Contact staff writer Jayden Kennett 317-762-7847 or by email jaydenk@indyrecorder.com. Follow her on Twitter @JournoJay.