A Westfield couple is celebrating a new milestone: harvesting their first batch of blue oyster mushrooms in an upcycled shipping container.
Farmbox shipped the couple their container farm in mid-July. Just weeks after the delivery, Mark Downs and Julie Downs have already harvested several batches in their 40-foot climate-controlled shipping container.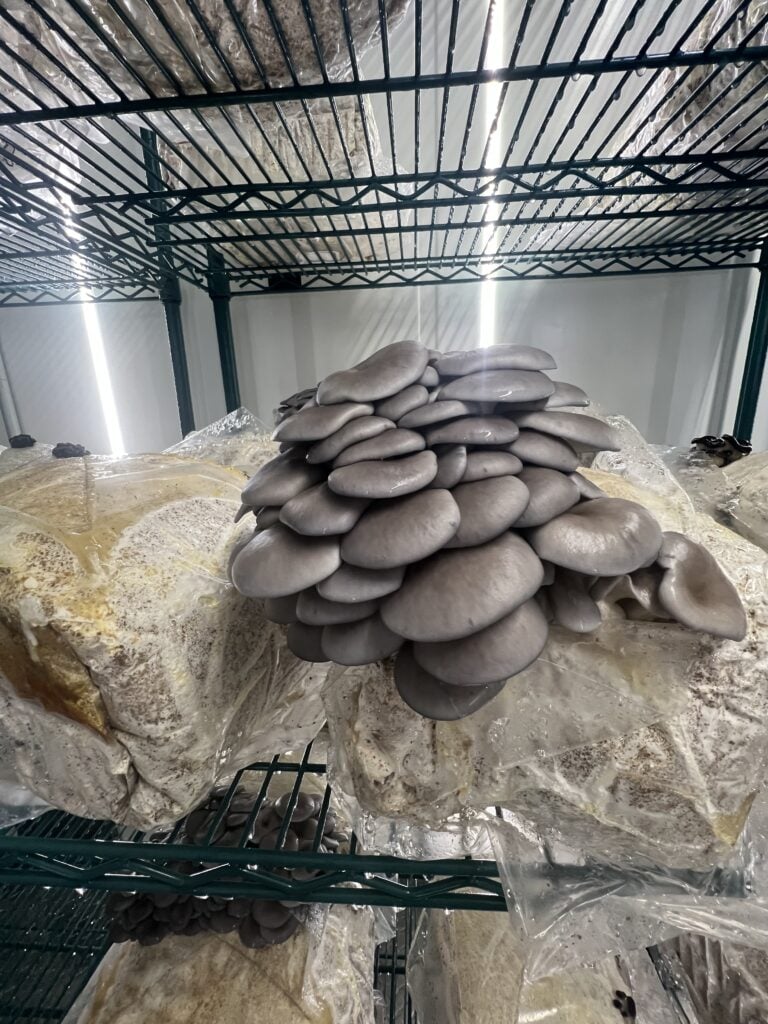 Stepping through the door of the container farm feels like stepping into the pilot's seat of a UFO, with computerized air controls and shelves of mushrooms in all different stages. Mark Downs has spent many days learning the computerized system and custom controls.
The Gourmet Mushroom Farm is run by software and hardware specifically designed for indoor growing operations. This allows farmers to control humidity, temperature, misting and lighting schedules, and there is no need to use chemicals in the enclosed, food-safe space.
The process starts in the lab where Mark Downs mixes soil and hardwood pellets in bags for seeding. Once it is mixed and sealed in a plastic bag, it is stored in a steam cabinet for 10-12 hours.
The process takes a lot of sterilizing and keeping the area clean, Mark Downs said. A box of bright yellow disinfectant wipes are kept on each metal surface throughout the shipping container.
"Clorox is critical," he jokes.
Mark Downs adds a cup of grain to the bag, seals it, and it becomes ready for the next phase of the process.
RELATED: The three-fold fight of environmental justice: Black advocates are already providing solutions, now they need support
The Downs have the ability to produce up to 200 pounds of mushrooms a week. It takes about a month for a batch of mushrooms to grow from start to finish, Mark Downs said.
Until they find regular suppliers and learn the ways and woes of state and local guidelines, the Downs are only producing as much as they can sell or donate to deter food waste.
One thing that has surprised them is all the hoops they have to jump through to donate fresh harvest to local pantries, the Downs said. It has been a hassle of redirection to state and local agencies, paperwork filing and understanding safe food practices in order to be able to donate.
"There's a lot of things I didn't even think about, a lot of hidden features. That's been the learning curve," Mark Downs said.
After packaging, Mark Downs stores the bags on metal shelves, and each bag becomes ready to move through each chamber of the container until harvest.
The Downs farm began when they were looking for ideas to use the 15 acres of land they own in Westfield, Indiana. After much research, the Downs opted for a different approach and purchased the shipping container, they said.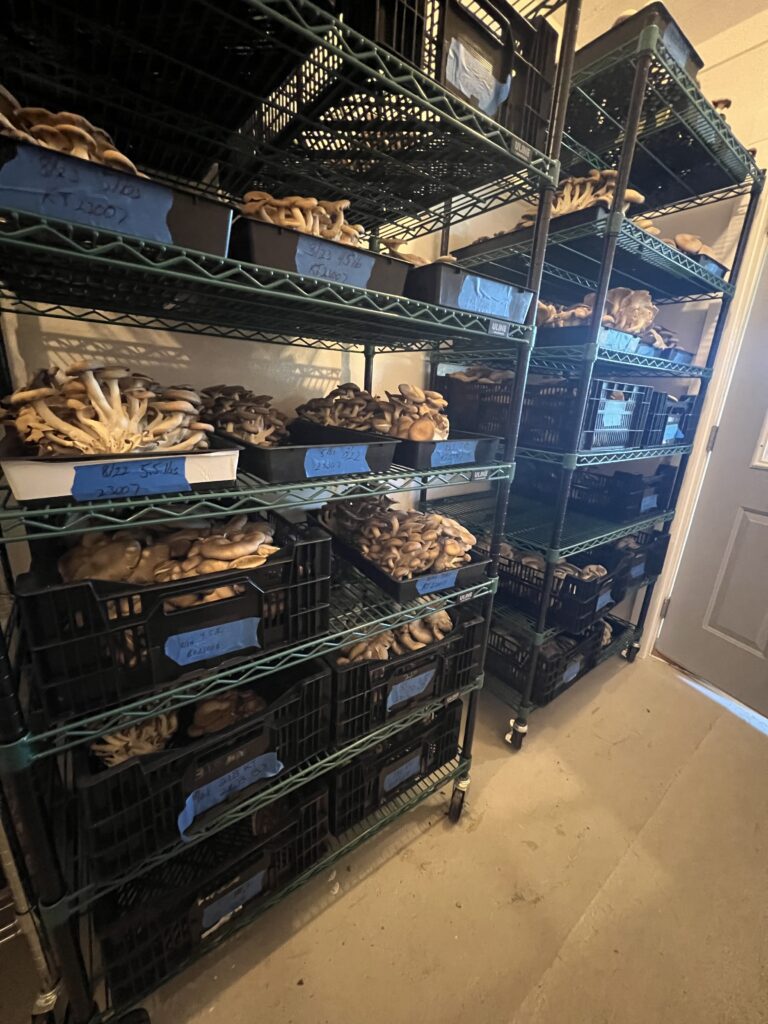 Seeing the many reactions to their mushroom farm has been the most enjoyable part, the Downs said.
When Mark Downs is not tending to fungi inside of the container, he is making improvements and optimizing the farm outside of it. Mark Downs built a walk-in cooler just feet away from the farm and has plans, and plenty of fiberglass panels, to create a station to continue to harvest and package mushrooms.
As the Downs continue to grow mushrooms, they look to expand their business to selling mushrooms at nearby farmers markets. The Downs Farm have already sold blue oyster mushrooms to the Angry Donkey in Michigantown, Indiana, and talks of expansion to donate to local food pantries are in the works, the Downs said.
"We've been so busy trying to get it up," Mark Downs said. "We haven't had any extra yet. We're getting close."
In the meantime, the Downs continue to enjoy their practice and educate local residents about the innovative farm.
"We've had our ups and downs. It's hard not to get discouraged," Julie Downs said. "But we also believe in ourselves and God, so we know it's gonna go. It's just hard work right now."
Contact staff writer Jayden Kennett at 317-762-7847. Follow her on Twitter @JournoJay.