Those who gathered outside of Jordan's Fish & Chicken on Jan. 2 were met by a neon green sign from the Marion County Public Health Department posted to the restaurant's door. "NOTICE," it read, with "CLOSED" in bold letters.
Jordan's Fish & Chicken, at 4175 N. Post Road, was closed after a video surfaced on social media of food being prepared on a dirty floor, a rodent present where customers were and the staff barefoot.
About 20 people were at the restaurant to protest.
According to an update from the Marion County Public Health Department, an inspector from the county health department attempted an inspection the morning of Jan. 2, according to a spokesperson for the health department, but there were no employees and the door was locked. The inspector noticed a large amount of grease in an area outside the restaurant. The restaurant was closed as of 10:20 a.m. An inspection and approval from the Marion County Public Health Department Food and Consumer Safety will need to take place before the far east side restaurant can legally reopen.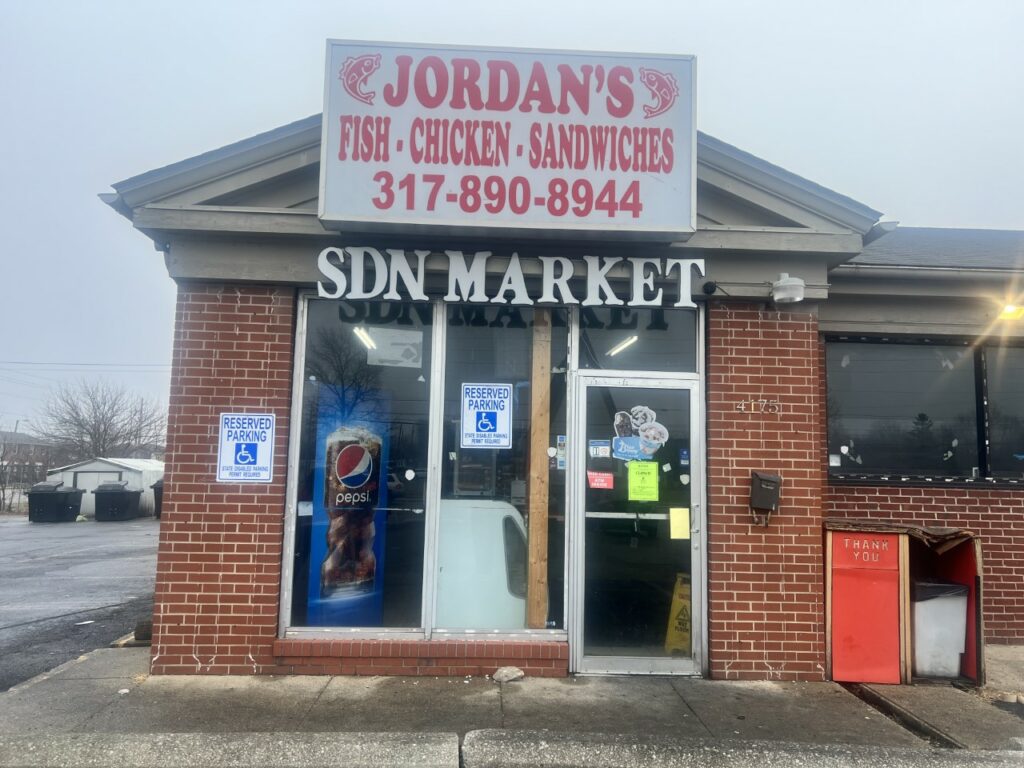 Devon Johnson was a customer for a year, and it once was a place he would go to while he was on his lunch break. Johnson told the Recorder outside of the restaurant that he had been "skeptical" of going to Jordan's because the last time he went customers weren't allowed to go inside and employees handed food out of the window.
"That was my last straw," Johnson said in the parking lot.
He said it's "disturbing" that the restaurant's employees apparently felt it was OK to feed people like that.
"What's done in the dark comes to light," Johnson said.
Democratic mayoral candidate and state Rep. Robin Shackleford was there and said she was "horrified."
"I couldn't believe that you had a restaurant in our community with such a deplorable situation, stepping over food, you don't have shoes on, mice running around," she said.
Christina Hodgeson, an off-site manager for two Jordan's Fish and Chicken locations, told protesters there are only two official Jordan's Fish and Chicken's in Indianapolis: one at 5841 Crawfordsville Road and another at 4824 S. Emerson Ave.
Hodgeson said she was shocked and saddened by the video and that she had not seen anything happen at her locations since being a manager for three years.
"I was angry," Hodgeson told the Recorder.
According to Hodgeson, there are many Jordan's Fish and Chicken restaurants around the city that have taken the original name and logo and created businesses from it. Hodgeson said she and her business partners met with a lawyer last year to find out how they could get their name back, but nothing came of it.
Ashley Virden was born and raised on the far east side and said she has eaten at the restaurant several times and was "sick" and "upset" after watching the video.
"As a mother of three I was receiving EBT, and when times are hard it's kind of the only option out there to be able to provide your children a quick hot meal," Virden said. "Especially with there not being any grocery stores and being on the run this was pretty much the only option."
Contact staff writer Timoria Cunningham at 317-762-7854 or timoriac@indyrecorder.com. Follow her on Twitter @_timoriac.
Note: This story has been updated to accurately reflect the Marion County Public Health Departments statement.