It has been approximately four months since the Indianapolis Public Library welcomed its new CEO.
Gregory Hill, IndyPL's new permanent CEO, joined the library system after serving 20 years in the U.S. Navy and various other roles, including branch manager of the Decatur and Lawrence branches, resource manager at Central Library, chief public services officer and action CEO of IndyPL. During a monthly board meeting in May, Hill outlined his plan for his first 100 days as CEO.
"As I'm making my rounds to the community leaders, I noticed a lot of positivity from the community," Hill said. "The overarching goal is for me to be a leader but also to build the community."
Since his tenure began, Hill said he has been meeting with community leaders, donors and individual branches to help reach his goals for the library, which include strengthening relationships, advocating for increased budgets, bringing the community up to speed on the strategic plan accomplishments and, of course, the Climate Improvement Process.
It has not been easy, but Hill said things are "going as expected."
"I take every day as a challenge, so I just kind of know what's on the horizon," Hill said. "I don't try to put a lot of worry in tomorrow. I just try to get through today, and then make sure that we are, again, living our mission for our patrons and our staff."
While it is no secret that Hill was not the community's choice for CEO — having vocally supported former interim CEO Nichelle M. Hayes — the library appears to be moving forward under Hill's leadership and making progress on the goals and initiatives addressed by the Board of Trustees during the Climate Improvement Study.
Michael Torres, library union president of ASME Local 3395, said library staff are continuing to serve the community to the best of their ability regardless of the outcome. Although they will continue to bring up concerns surrounding accountability, budgeting, staffing and hiring, Torres said the community has appeared to have settled in the aftermath.
"Beyond that, I think people are just feeling defeated," Torres said. "I mean, we've been through a whole entire year — well, the past two years with Jackie Nytes being fired — and then the umpteenth numbers of interims … and the board going through that whole fiasco of a CEO search … It's very frustrating, you know; I think they're just tired of fighting."
The Fort Ben Branch was fully staffed, trained and autism certified before its grand opening Aug. 19; however, Torres said library workers recently received an email notifying them that the Nora and Warren Branches would now close on Sundays beginning Sept. 10 to allocate resources to Fort Ben. There is also concern over a position at the Haughville Branch falling to a paraprofessional instead of a full-time librarian, Torres said.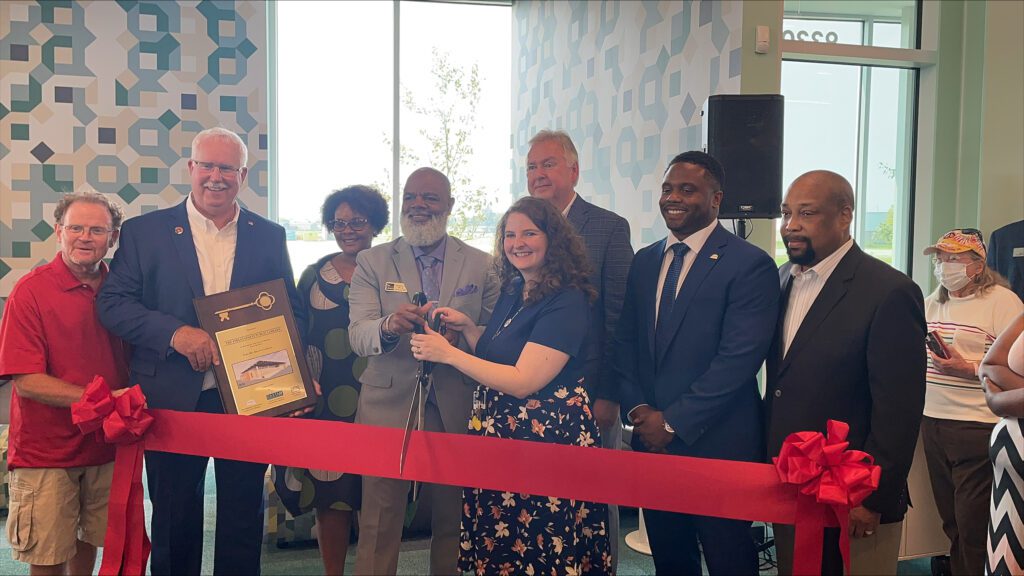 "For us to put to this claim that that's good enough for that branch right now is not right," Torres said. "I think that that's one of the issues I know that's been raised, and we really need to look at where we have public service associates who are taking the place of librarians and especially in smaller branches; you know, the needs are there, so why are we not doing those positions?"
Hill said one of his goals for the library as it pertains to staffing is to "attract, train and keep new applicants." Although Hill could not comment on what positions are currently open, he said there are a few, as some branches have vacancies, but each one is "at their staffing capacities" and have floaters that go between branches to aid in those with higher service demands.
In terms of addressing the Climate Improvement Study, Hill said when he first took over as CEO, the board broke into teams that were responsible for working on certain recommendations, which currently are a little more than 50% completed and they hope to be 100% completed by the end of the year. Updates from the study are posted at indypl.org/forward, the most recent of which was uploaded March 28, 2023.
"On a detailed and internal level, the board is focusing on improving board operations, team building, and updating our by-laws to respond to the recommendations of the Climate Improvement Study that was completed last year," Hope Tribble, president of the Board of Trustees, said in a statement. "Yet even through this rigorous period of transition, I've also remained mindful of our responsibility to patrons and taxpayers."
Tribble said the Trustees are also "balancing fiscal responsibility with strategic growth," the library's finances are currently in good shape, and the board has approved a "thoughtful budget request" for 2024.
However, Hill said that when it comes to the study, he wants to make sure they are not "just checking boxes" and are actually addressing these issues, for example enhancing internal communication by infusing bimonthly library town halls for staff and executives.
Additionally, they have instituted branch liaisons, each of which Hill said have been assigned three branch locations to visit and get feedback on aspects that can be improved or updated.
"We have another one scheduled for this month, September the 20th, and then we'll have another one in November," Hill added. "Then at the end of the year, we'll … assess how that's going if we need to do it more frequently or if we can just do one once a quarter."
Going forward, Hill said there are three major things he is working on completing by the end of the year. The first initiative includes placing accessibility workstations — which include a height-adjustable desk, large-key and large-print keyboard, trackball mouse with programmable buttons, and arm supports, in addition to assistive software to ensure patrons with disabilities and mobility limitations are able to use library resources — in each branch.
The library has already implemented the workstations at five branch locations as part of the pilot program, and after visiting other libraries who have already implemented this, Hill said he also wants to include a language line for patrons whose first language is not English.
Lastly, Hill hopes to continue working with City-County Councilor Ali Brown to extend autism certification to branches beyond Fort Ben. Although that may not happen by the end of the year, Hill said it is something he hopes will become a reality in the near future.
"There seems to be a positive vibe throughout the library," Hill said. "Hopefully, by the end of the year, we'll do a follow-up survey from the CIP to see where we are."
This story has been updated to accurately reflect leadership positions at the Haughville Branch. The Recorder makes every effort to correct its mistakes.
Contact staff writer Chloe McGowan at 317-762-7848 or chloegm@indyrecorder.com. Follow her on Twitter @chloe_mcgowanxx.