Kelsey Mitchell just finished a career year for the Fever. The fifth-year guard averaged a career-high in points (18.4), assists (4.2) and 3-point percentage (40.9) this season. Despite the Fever winning only five games, the entire league recognized Mitchell's superb season.
Two-time All-Defensive guard Brittney Sykes called Mitchell "an energy bunny" and said that Mitchell was one of the toughest players to defend. "She's a really great player," the L.A. Sparks guard said on "The Dunker Spot" podcast in June. "You can be as quick as you are but her skill set allows her to move so freely and have teams on their heels." 
Cheryl Reeve, a three-time WNBA Coach of the Year and four-time champion as a head coach, finds Mitchell a problematic player to scheme against. "You can't guard her with one player," Reeve said before her Minnesota Lynx squad faced the Fever on June 12. "We always tell our players, 'Look, that's not a personal attack on you.' She's going to get by everybody."
Kelsey Mitchell has a level of respect and admiration from peers that you usually don't see given to a player on an inferior team. Mitchell has fully put the league on notice with her improvements this year.
But the key behind Kelsey's jump wasn't some world-renowned trainer you may expect.
It was her dad.
Mark Mitchell has been a basketball coach for over 20 years in Ohio. Mark has been training Kelsey her whole life, and it hasn't changed with her being in the WNBA. His teachings have helped her become one of the league's best guards.
It's not unusual for a pro athlete to be trained by a parent in their developmental years, but by the time a player ascends to Kelsey's prowess, being trained by your father is pretty unconventional.
"My dad's an honest man and he's got a basketball mind out of this world," Kelsey said. "Why not go to a trainer who's going to hold you accountable, be honest about where you're lacking, exploit your weaknesses and turn them into strengths, and then instill that confidence that as long as you put in the work it's going to come?"
One of the main facets of Kelsey's game that improved this season was her finishing at the basket. While she shot a similar percentage around the rim (57.6% this year versus 57.8% in 2021), she raised her attempts within five feet from 3.6 per game to 4.3 per game.
Kelsey's heightened aggression led to more trips to the foul line. She went from 2.7 free-throw attempts per game to 3.9, and she shot a career-high 122 free throws while making 86.1% of them.
Only 39.4% of Kelsey's field-goal attempts were 3s, marking the lowest share of 3s she's shot in her career. Attacking the paint and becoming a better finisher were emphasized for her this season.
"My dad always tells me 'Fight for your spot, fight for your space, fight for where you want to go on the floor,'" Kelsey said. "When you kind of show glimpses of it in the game, it's like, 'Wow, the work is actually paying off,' so it's a good feeling."
Mark told the Recorder that his memo to Kelsey is, "Remember, you just happen to be a really good guard who can shoot the 3. You're not a 3-point shooter. You're what we would classify as a scorer."
With over two decades of experience coaching basketball, you'd figure it would be natural for Mark to train his kids while they pursued the sport. But even as Kelsey emerged as one of the top prep recruits in the country, Mark was reluctant to place WNBA goals on her.
"Being in coaching and teaching for as long as I've been, you see so many horror stories," Mark said. "So you plan and you prepare as if that's what you're going to do, but it's never really talked about. It's never really hoped for because the dynamics are really hard."
He also felt Kelsey and her twin sister Chelsea were the beneficiaries of being the second set of basketball twins for Mark and his wife, Cheryl. Kevin and Cameron Mitchell are three years older than Kelsey and Chelsea. Both played college basketball and they ended up playing together at IU Southeast.
"I think with our daughters, I thought we did a really good job of not necessarily lowering the expectations, but letting them set the expectations," Mark said. "Whereas with our sons, we kind of set the expectations and pushed them towards it."
Although there was less familial pressure on her, Kelsey rose to prominence at Princeton High School in Cincinnati. She became the school's all-time leading scorer, a McDonald's All-American, 2014's Ohio Ms. Basketball and the Ohio Gatorade Player of the Year. The list of prep accolades is infinite for Kelsey. 
In the spring of 2013, at the end of Kelsey and Chelsea's junior season, Mark became an assistant on Kevin McGuff's women's basketball staff at Ohio State. McGuff offered Mark a job when McGuff was the head coach at Xavier. At the time, Mark wanted to remain a high school coach, and he declined. McGuff later became the head coach at Washington before returning to Ohio to coach the Buckeyes in April 2013.
The twins were still uncommitted at the time of Mark's hiring. Mark made it apparent to McGuff that his hiring did not ensure his daughters would join the program.
"If your plan was to bring me in to get Kelsey and Chelsea, you're going to have to recruit them and convince them," Mark told McGuff. "I'm not going to recruit them. I'm not going to talk to them. You're going to have to."
Later that summer, Kelsey and Chelsea committed to playing for the Buckeyes. After all the years of training and practicing together, Mark would officially coach his daughters for the first time.
Kelsey said it was "pretty unique" to have her dad on the staff for her entire college career. "He separated the two as far as being a father and being a coach," Mitchell said.
"We wanted them to have the best college experience, so we did a really good job of never being overbearing," Mark said. "If you needed something, make sure we were the last people that you had to come to. So exhaust that conversation with Coach McGuff, talk to one of the other assistants, and develop a relationship with them. And then if worst case scenario things don't work out, come to see us, and we'll see how we can facilitate that."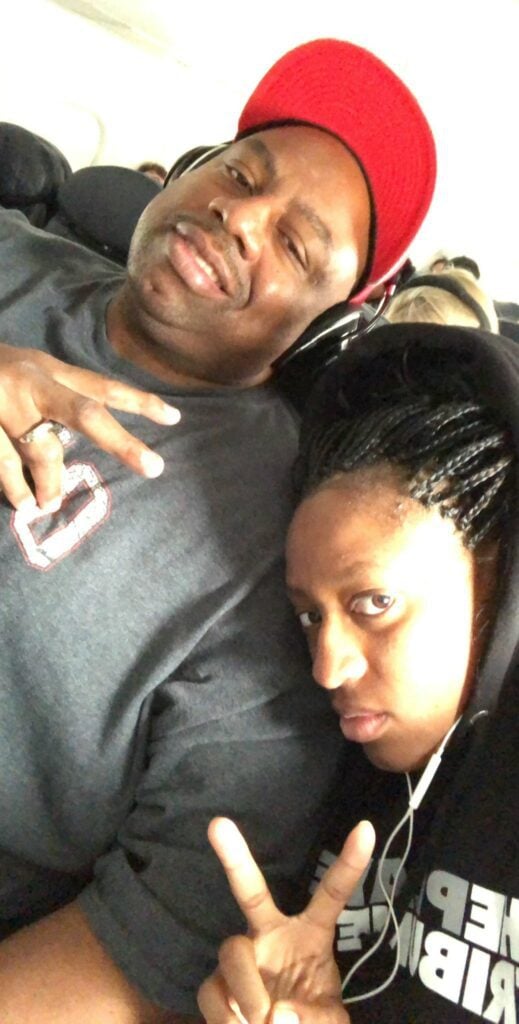 Kelsey went on to be first-team All-Big Ten in all four years in college, and she was Big Ten Player of the Year three times. She finished her career second all-time in scoring in Division I women's basketball. She led the Buckeyes to two regular season Big Ten championships and a Big Ten Tournament championship in her career. The Fever picked Kelsey with the second overall pick in the 2018 WNBA Draft.
Mark's training of Kelsey didn't stop when she left Ohio State. Not only does he help gear her up in the offseason, but he continues to advise her as the season goes along.
Kelsey says Mark will send her "a thousand" texts ahead of a game. "I might be annoyed with it at some point, but I know deep down it's coming from a good place," Kelsey said. "Sometimes I don't tell him how much I appreciate him, but I do."
"He's also become a lot better at knowing when not to say stuff too," Kelsey added. "Like sometimes just let me figure it out."
"I try not to be overbearing with it," Mark said. "So I'll just shut up and wait on her to ask me, 'What do you think?'"
Once the season ends, the two devise a blueprint on what to work on and how to attack the offseason. The plan differs each year depending on what Kelsey did in the previous season and when she has to play overseas or in another league.
"Throughout the course of the year we'll make mental notes," Mark said. "Then we kind of start to develop a strategic plan to continue to become more efficient."
Kelsey missed the final five games of the season due to a partial plantar fascia tear in her left foot, so it's unsure when she'll be able to train again. Mark happens to think this time without being able to train or play could benefit Kelsey.
"It's going to sound crazy, but the best thing that happened was she got hurt," Mark said. He says that now they can "put her on pause" rather than rushing back into training again.
This foot injury will force Kelsey to slow down her offseason technique. She's opted not to play overseas in the winter and spring this year, so Kelsey will have plenty of time to expand her game at home. Mark says Kelsey typically tries to begin their offseason program right after the season ends. He usually attempts to postpone the start of training to no avail.
"And she's going to fight you tooth and nail on that because she wants to get better every second, every hour," Mark said. "So you have to almost save Kelsey from herself."
Due to her injury, no concrete plan has been schemed for what to work on once Kelsey fully recovers. Yet they both have ideas about which parts of Kelsey's game they'd like to enhance before next season.
Kelsey wants to do "a little bit more in-detail work" so she can counter when teams trap her and ice ball screens. "It's just getting a little bit more in detail and a little bit more finesse to my game," she said.
Mark echoed that sentiment, saying he wants Kelsey to be more "dynamic" when she gets a ball screen. "There's four people involved in the ball screen action, and you have to be able to teach guards how to manipulate that," he said.
Kelsey dabbles in working with trainers who aren't Mark, but in the end, her father is her go-to. The chemistry between them leads to the best results.
"I do kind of feel refreshed when I get with different trainers sometimes and we exploit different things," she said. "But when it comes to my father, him understanding who I am as a person goes into play about where I'm at now as far as my strengths and weaknesses."
We'll see what alterations materialize to further Kelsey's game going forward. Despite having a marvelous offensive season, she fell shy of being voted an All-Star. When you watch Kelsey Mitchell play next year, you can remember that her dad's training has guided her to this stature.
Zion Brown is a sports reporter for NextGen Sports, a collaboration with The Recorder Media Group.