The Fever season ended on an 18-game losing streak and with a WNBA-worst 5-31 record. Despite being the worst team in the league, this is a franchise with a purpose and direction. That direction lies in the seven rookies on the roster, specifically the five rookies taken in April's WNBA Draft.
"We really feel like we made some good decisions with those selections," Fever interim general manager Lin Dunn said at the team's exit interviews. "Their approach of 'We're not backing down nor are we intimidated by anybody' was refreshing."
For the final time this season, let's evaluate where those five draftees are in their development.
NALYSSA SMITH (NO 2. OVERALL, BAYLOR)
NaLyssa Smith will be named to the WNBA All-Rookie Team and she will likely finish second in Rookie of the Year voting. That's exactly what the franchise would want from this pick, especially since the first overall pick Rhyne Howard is expected to win the award.
In her final nine games of the season, Smith averaged 14.8 ppg, 6.6 rpg and 1.3 apg. Her final rookie numbers are 13.5 ppg, 7.9 rpg and 1.4 apg.
Smith made 45.7% of her 3s on nearly four attempts per game in the final nine games of the year. After making just 13-of-65 3s in four years at Baylor, Smith shot 38.1% from downtown on three attempts per game in her rookie season.
Smith's shooting development wasn't expected to occur this soon in her career. Her bright spot in the shooting department occurred on July 21 when she made five 3s and had 24 points against the Las Vegas Aces.
While Smith was on point from outside in this stretch, she did struggle inside the arc to finish the year. Smith shot 39.4% on 2-pointers in this final stretch. She made under half of her shots within five feet during this time. Smith was only a 43.2% 2-point shooter this year which is well below the WNBA average of 48.9%.
The roles reversed from Smith's college days, where she was applauded for her work inside and questioned due to her lack of range. I think a better feel for the game and increased craftiness will guide Smith toward better 2-point shooting going forward. The team shouldn't be too concerned about Smith's lackluster 2-point shooting this season.
One part of Smith's game that tailed off as the season went on was rebounding. She's averaged fewer rebounds in each check-in than in the last. I'm not sure why exactly Smith rebounded less in the later stages of the year, but I don't think it's much to worry about.
Per Her Hoop Stats, Smith had a 14.9 total rebound rate, which ranked 20th in the WNBA. Part of Smith's rebounding decrease could just be the fact that she's playing with other strong rebounders like Queen Egbo and Emily Engstler.
NaLyssa Smith was exactly what the Fever had hoped for in her rookie year. She showed a strong ability to make jump shots and was the team's second-leading scorer. There's still a lot to work on, but Smith's first season was a success.
EMILY ENGSTLER (NO. 4 OVERALL, LOUISVILLE)
The word to describe Emily Engstler's rookie year is "promising." While the results weren't always there, Engstler showed plenty of flashes to justify her lottery selection. Engstler missed the Fever's game against the Atlanta Dream on Aug. 3 due to an illness.
Engstler averaged 4.9 ppg, 3.3 rpg and 1.0 apg in the last eight games she played. She averaged 5.2 ppg, 5.2 rpg, 1.5 apg and 1.1 bpg on the year.
Engstler's minutes have wavered all season long. In this most recent stretch, she played just 15.9 mpg. As a result of her playing time lowering, so did her production.
Despite slightly less playing time for most of August, Engstler did finish the season off strong. She scored a career-high 18 points and made all six of her field goals on Aug. 12 against the Washington Mystics. She followed that two days later with an 8-point game on 3-of-4 shooting against the Mystics.
The defensive side of the ball was definitely where Engstler impacted the game the most this season. She finished fifth in the league with 40 blocks. Engstler made several stellar plays as a weakside defender throughout the year. At the end of the year, Engstler played a bit of small forward, and she showed the ability to guard all three frontcourt positions. Her defensive versatility can be a valuable asset for the Fever going forward.
Rebounding was the other potent part of Engstler's game in her rookie season. She ranked sixth in the WNBA with a 12.3% offensive rebound rate (per Her Hoop Stats). Her 16.5% total rebound rate was 11th in the league.
There is plenty to look forward to in Emily Engstler's game. For now, she's still a bit of a project on offense. Engstler made just 39.6% of her field goals this year. She made 35.6% of her 3s on limited volume this season. If she can find a consistent scoring avenue, Engstler will be highly useful for the Fever for years to come.
LEXIE HULL (NO. 6 OVERALL, STANFORD)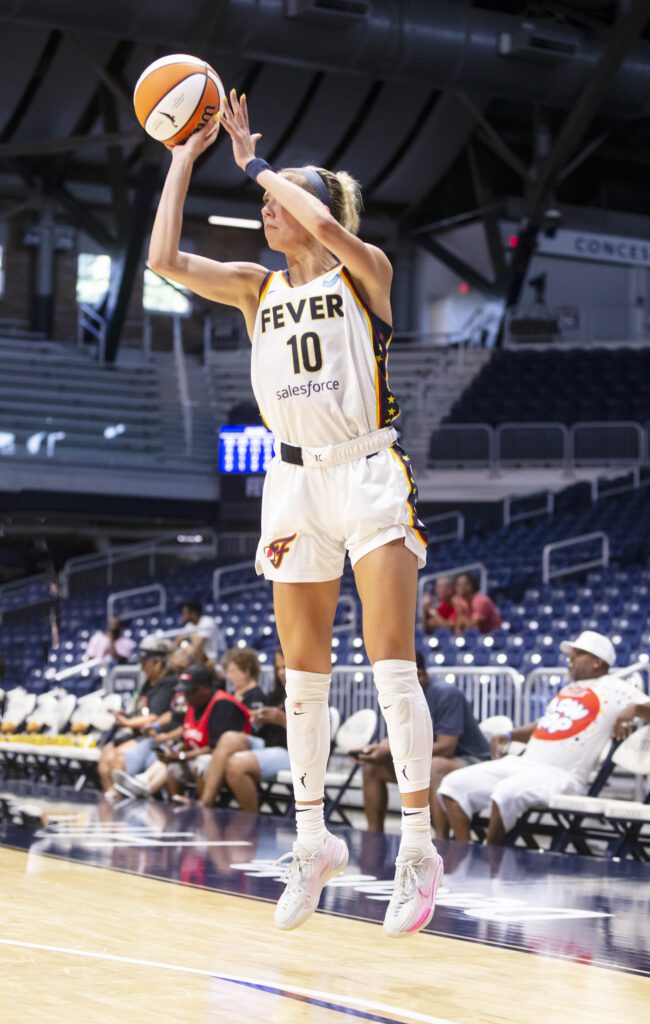 After returning from a right wrist injury on July 21, Lexie Hull saw her playing time take a large jump. Hull averaged 20.9 mpg in the last eight games of the season and after playing 9.3 mpg in the first 18 games she played.
In those final eight games, Hull averaged 8 ppg, 2.1 rpg, 1.1 apg and 1.4 spg. She averaged 3.8 ppg, 1.5 rpg and 0.7 apg on the year.
While Hull still struggled with efficiency (she made only 32.7% of her shots in this final stretch), it was nice to see her get the chance to play extended minutes to end her rookie year. Hull scored a career-high 17 points in an overtime loss to the Dallas Wings on Aug. 6.
What truly surprised me about Hull this year was her defense. Hull had two games with four steals near the end of the year. She was lauded as a shooter coming out of Stanford, but she was able to make a real impact as a defender. As a rookie, Hull was one of the team's best perimeter defenders.
Hull struggled with scoring efficiently for most of the season. She shot 18.6% on 3s and 32.2% on 2s. Hull had a 40.8% true shooting percentage, which was over 13% below league average. Hull's scoring deficiencies should be a slight concern for the franchise, especially since shooting is why she was drafted.
"Coming from a program that was more play-driven and set-driven, I think I really need to work on creating off the dribble and being able to be a threat in those spread-out scenarios," Hull said at the exit interviews.
Lexie Hull's rookie season was a rocky one. Hull's playing time fluctuated, and she battled with a significant injury, so it was hard for her to ever find a rhythm. The fact that the Fever felt comfortable playing Hull large minutes to conclude the season is a good sign. Hull will have to be able to knock down jumpers in the future to make the draft pick worth it.
QUEEN EGBO (NO 10. OVERALL, BAYLOR)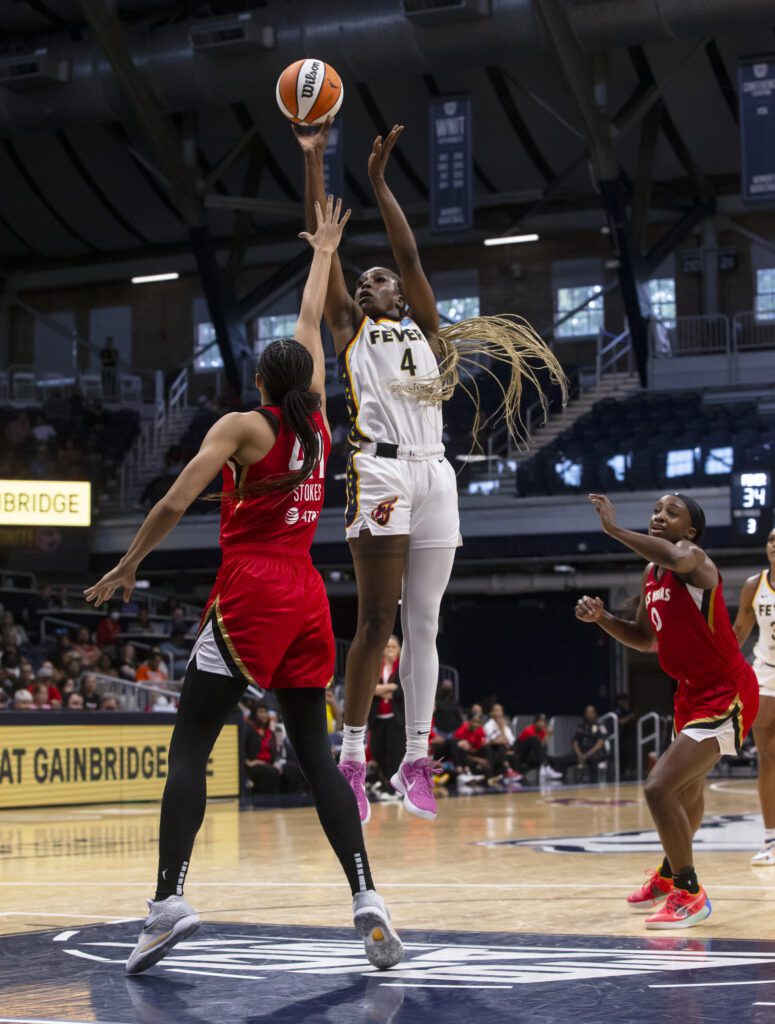 Queen Egbo was consistently the Fever's second-best rookie throughout the season. It already feels like she's been worth the 10th overall pick.
Egbo averaged 5.9 ppg, 5.3 rpg, 0.8 apg and 1.1 bpg in her last eight games of the year. She averaged 7.2 ppg, 6.3 rpg, 0.9 apg and 1.2 bpg this season.
Egbo's defense at the center position was vital for the Fever this season. She had 40 blocks this year, tying Engstler for fifth in the league. Per Basketball Reference, the team's defense was eight points better per 100 possessions when Egbo was on the court. While she sometimes struggled against hefty centers in the post, the 6-4 Egbo was highly effective at protecting the paint when drivers entered.
Rebounding was another thing that made Egbo's defense so valuable. She finished the season 10th in the WNBA with a 25.6% defensive rebound rate. The Fever secured defensive rebounds at a much higher rate when Egbo was on the floor.
The offensive side of the ball was a mixed bag for Egbo this season. Egbo tied her career-high with a 14-point performance against the Wings on July 24.
Egbo made 44.2% of her field goals without attempting a 3-pointer this season. She made 53.3% of her shots within five feet of the basket, but she was only 30-of-93 (32.3%) on other field goals. This offseason should be about Egbo improving her touch around the basket to be a more efficient offensive option.
Queen Egbo was a great value pick by the Fever in the draft. She was thrown into the fire on day one, starting 31 of the 33 games she played. The only games she didn't start were games that she entered with a minor injury. Many didn't have Egbo going in the first round of the draft, but her defense and rebounding alone show that she should be in the WNBA for a long time.
DESTANNI HENDERSON (NO. 20 OVERALL, SOUTH CAROLINA)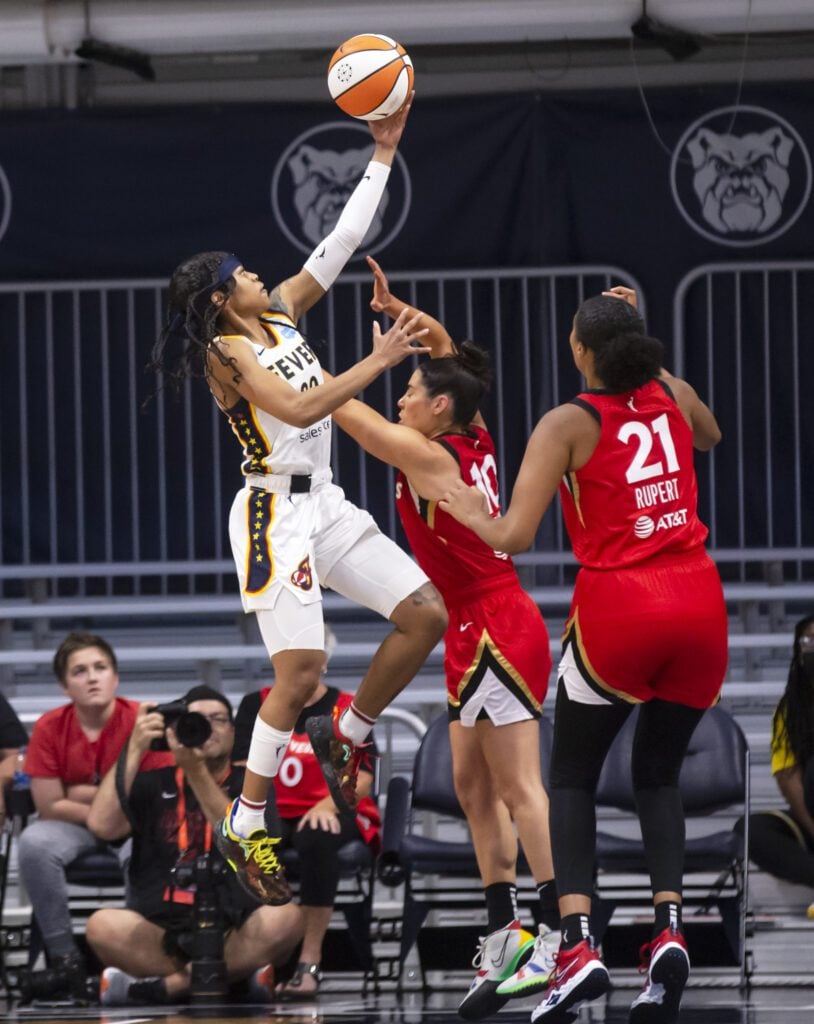 Destanni Henderson saw her playing time grow near the end of the season due to injuries to Kelsey Mitchell and Danielle Robinson. She made the most of those opportunities, looking more like what we saw from Henderson at the beginning of the season.
Henderson averaged 5.9 ppg, 1.6 rpg and 3.3 apg in the last nine games of the year. She averaged 5.3 ppg, 1.6 rpg and 2.5 apg for the full season.
Henderson had two 16-point games in this stretch, plus another double-digit scoring game. On Aug. 6 against the Wings, Henderson scored the Fever's last five points in regulation to send the game to overtime.
"It definitely gave me confidence," Henderson said about ending the season strong. "I feel like I definitely have a lot of room for improvement of course. So I'm just trying to focus on that and focus on the things that I lacked for the whole season and try to get better at those things."
The area Henderson has grown the most is finishing. In the first 18 games of the season, Henderson made only 36.6% of her shots within five feet of the rim. She hit those shots at a 73.9% clip in the following 18 games.
After that Wings game, Henderson shared her newfound approach, saying, "Don't try to change your shot just because you think contact is coming…I just think it's a mental thing, just not to be scared and just to believe in me attacking the rim."
Defense remained an issue for the 5-7 Henderson this season. The team was considerably worse on that end of the floor when Henderson played. Her size will always be a challenge for her pursuit of being a good defender, but Henderson will probably need to clean up the little things if she wants to be this team's point guard of the future.
Destanni Henderson was the only Fever player to play all 36 games this year. She was popular among fans from day one and met the expectations of a late second-round pick. It will be interesting to see how the Fever plan to use Henderson going forward.
The future of the Fever franchise lies in how these five rookies develop. The team went all in on the youth movement, and only time will tell if that was the right choice. With this being the first offseason for these young players, it will be crucial for them to expand their games.
"Every one of those rookies has an area that they know they're weak in," Dunn said on Tuesday. "So they've got to take a specific area and say, 'This will be better next year.' And that has to happen in the offseason."
Zion Brown is a sports reporter for NextGen Sports, a collaboration with The Recorder Media Group. Stats provided by herhoopstats.com, basketballreference.com, and WNBA.com.