It has been a year since Gladys and Herman Whitfield Jr. called the Indianapolis Metropolitan Police Department because their son was having an apparent mental health episode. But it was a call that ended in tragedy.
Herman "Tres" Whitfield III died in police custody.
Following Whitfield's death on April 25, 2022, spiritual leaders from Faith in Indiana called for action to ensure that such a tragedy would not reoccur, and some progress has been made.
What's next?
Faith in Indiana and city officials have emphasized the need for a 24-hour and fully funded mental health crisis response team, and Indianapolis now has a Mobile Crisis Assistance Team, or MCAT.
But the team only operates 7:30 a.m. to 6 p.m. Monday through Friday.
Details of a pilot program were teased last September. While the details of the new program are not public, city officials and faith leaders have been working behind the scenes to finalize a contract with the organization establishing it, said Josh Riddick of Faith in Indiana, who added that an announcement is coming soon.
"While I wish we were up and running, the progress made has been really good," Riddick said.
The 39-year-old Whitfield was an accomplished musician and groundbreaking composer, often captivating audiences with hymns he had heard by ear. An Indianapolis Star article referred to Whitfield as "a virtuoso on the rise" when he was 14 years old.
And Whitfield won the Detroit Symphony Orchestra's "emerging African-American composers" competition twice.
Related articles:
• Two officers charged with felonies in death of Herman Whitfield III 
• 'They're not going to kill him, are they?' mother of Herman Whitfield III asked police 
• IMPD must release complete body cam footage for Herman Whitfield III by Jan. 3
• Family and friends celebrate what would have been Herman Whitfield III's 40th birthday
• Herman Whitfield III's death ruled a homicide
Days after Whitfield's death, calls for a new 24-hour crisis response team began and faith leaders called for the firing of the officers who arrived on scene.
The Marion County Coroner's Office ruled Whitfield's in-custody death as a homicide last June.
According to the report, Whitfield died of "cardiopulmonary arrest in the setting of law enforcement subdual, prone restraint and conducted electrical weapon use," the report lists "morbid obesity" and "hypertensive cardiovascular disease" as contributing factors.
The Whitfield family filed a wrongful death lawsuit against the city and the officers on June 22, 2022.
A week later, IMPD released the 911 call and bits of body camera footage from the incident. The family maintains that the video IMPD released was "selective and biased" and created a "false narrative" of what happened, and they fought for the release of the full body camera footage through court.
After a delay in releasing the footage, a federal judge ordered IMPD on Jan. 3, 2023 to release the complete body footage as a part of the ongoing lawsuit.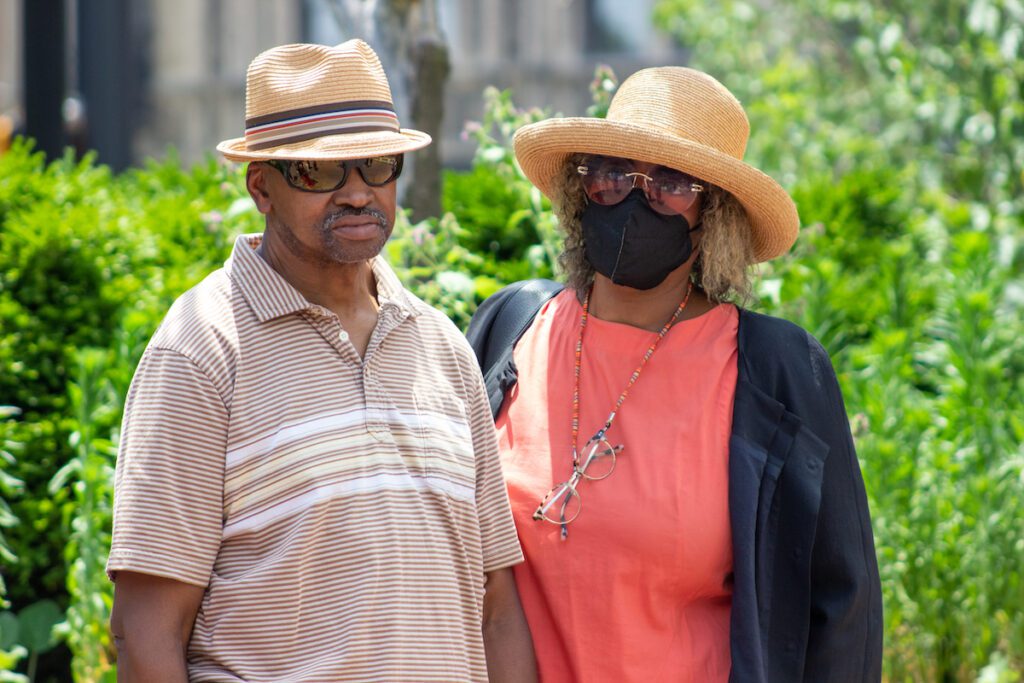 Gladys Whitfield had asked officers if they were going to kill her son, a revelation that didn't come to light until the release of body camera footage. She was assured by Officer Dominique Clark that the officers were "just talking to him."
Whitfield's death brought Black faith leaders together to rally at the Statehouse in February to call for a fully funded mental health crisis response system across the state. That bill would provide all Hoosiers with a mental health helpline. The General Assembly has not taken final action on the measure.
An Indiana Behavioral Health Commission report determined that untreated mental illness costs Indiana $4.2 billion yearly. Establishing and running a crisis response system will cost $130.6 million annually, the same report found.
Earlier this month, a Marion County grand jury indicted two officers for their alleged roles in Whitfield's death.
Steven Sanchez, who allegedly deployed the stun gun, and Adam Ahmad were charged with involuntary manslaughter, reckless homicide, battery resulting in serious bodily injury, battery resulting in moderate injury and battery.
Yet, all six officers involved in the incident remain on paid administrative duty status, according to IMPD. It is unclear whether other officers who were on scene will be charged.
Contact staff writer Jayden Kennett at 317-762-7847. Follow her on Twitter @JournoJay