Every community consists of people who are different from each other, whether it is because of ethnicity, socioeconomic background or upbringing.
Former White House staffer Cari Twigg joined panelists Stephen Prothero, a religious studies scholar, and Kathleen Belew, a historian, to discuss how to celebrate differences and embrace those who don't look like us within our community.
The conversation Nov. 12 capped the annual Spirit & Place Festival. The theme was "American Identity." The festival's director, Erin Kelley, moderated the conversation.
"One way we accept this plurality is not accept that you exist in a community of people that look like you," Twigg said. "We live amongst people who are different than us."
The panelists said one thing everyone has in common is being surrounded by people in their communities who share different beliefs and values.
"Part of what brings us together as a shared ritual is that we argue about the text, ideas and values that we think should be our values and we can't all agree on them," Prothero said.
Midway through the conversation, Kelley added three photos to the screen and asked the panelists to interpret what they saw and what similarities were present among them.
"We religious studies scholars were pretty adamant that this looks like a religious event," Prothero said of a photo that showed a woman holding a picture of Jesus with a Donald Trump at the Jan. 6 insurrection. "Here we have a classic image of Jesus, one of the most widely viewed and reproduced images of Jesus. He's looking dreamily Trump-y with his Make America Great Again hat."
Prothero said the photo represents the argument that America is a white Christian nation and that religion in the photo is used as a sign of revolt.
Another photo depicted a white husband and wife giving their son a hot dog. The photo, Belew said, was connected to the insurrection photo because a white couple with their children — showing off the so-called American Dream — represented Trump's "Make America Great Again" slogan.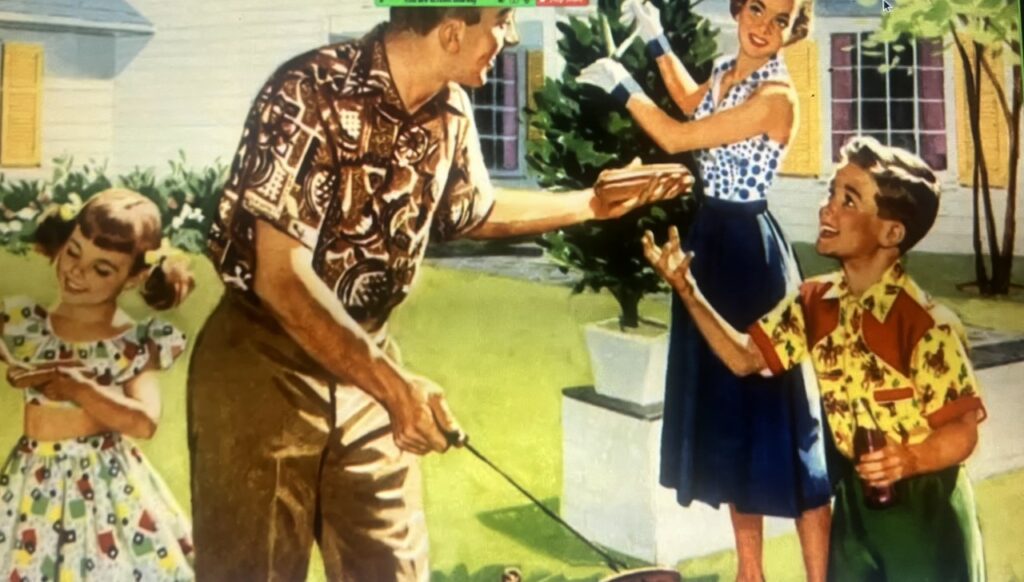 During a Q&A session at the end, panelists were asked what the recent midterm elections say about American identity in 2022.
"We are moving into a less race-centric organizing structure amongst partisan coalition and moving more into a geographical based one," Twigg said.
Contact staff writer Timoria Cunningham at 317-762-7854 or at timoriac@indyrecorder. Follow her on Twitter @_timoriac.