When you travel down Fall Creek Parkway near 16th Street, you'll see a sign for the Lt. j.g. Graham Edward Martin Park. This park, previously known as the Fall Creek and 16th Street Park, was renamed by the City of Indianapolis on Aug.17, 2011. Slightly more than 67 acres of land are included at this site. A variety of recreational activities are available here.
You may have passed by the park and not realized that the man whose name now graces this Indianapolis landmark was an embodiment of grace while he walked among us.
Graham Edward Martin was an American citizen who helped change our nation through his leadership, the leadership of 12 of his colleagues, and the leadership of the men and women who made the decision to have this country move forward.
Martin was one of the first African Americans who became officers in the United States Navy. As a member of what was called the "Golden Thirteen," Martin helped desegregate the U.S. Navy. He and others showed the potential that had been left behind for years by governmental policies that denied opportunities to Americans of African descent. In the face of that discrimination, Martin and others showed grace with iron will to move forward.
According to the Indianapolis Parks and Recreation Department, "Mr. Martin graduated from Crispus Attucks High School, Indiana University, and Howard University before enlisting in the Navy [in 1942]. In 1944, the Navy chose Mr. Martin as one of the first 13 African American men to train to become officers. They were commissioned as officers and created a path that changed the armed forces forever. Martin served four years in the Navy as a ship commander. Upon his return to Indianapolis, he coached … football and baseball at Crispus Attucks from 1947-1982."
Helping Veterans and Families of Indiana (HVAF), released a statement from Martin's daughter, Elayne Lewis, at the time of the dedication of the park named in her father's honor. Lewis said Graham Edward Martin "…was a man who championed fairness for people from all walks of life." Lewis is a peer mentor at HVAF, an Indianapolis nonprofit organization.
"He was a very modest person and never wanted attention for himself, but my father always fought for justice for all people," Lewis continued. "My father was very proud to represent Indianapolis in his military and civilian life, and I am so happy that the city has chosen to proudly recognize him as one of its own."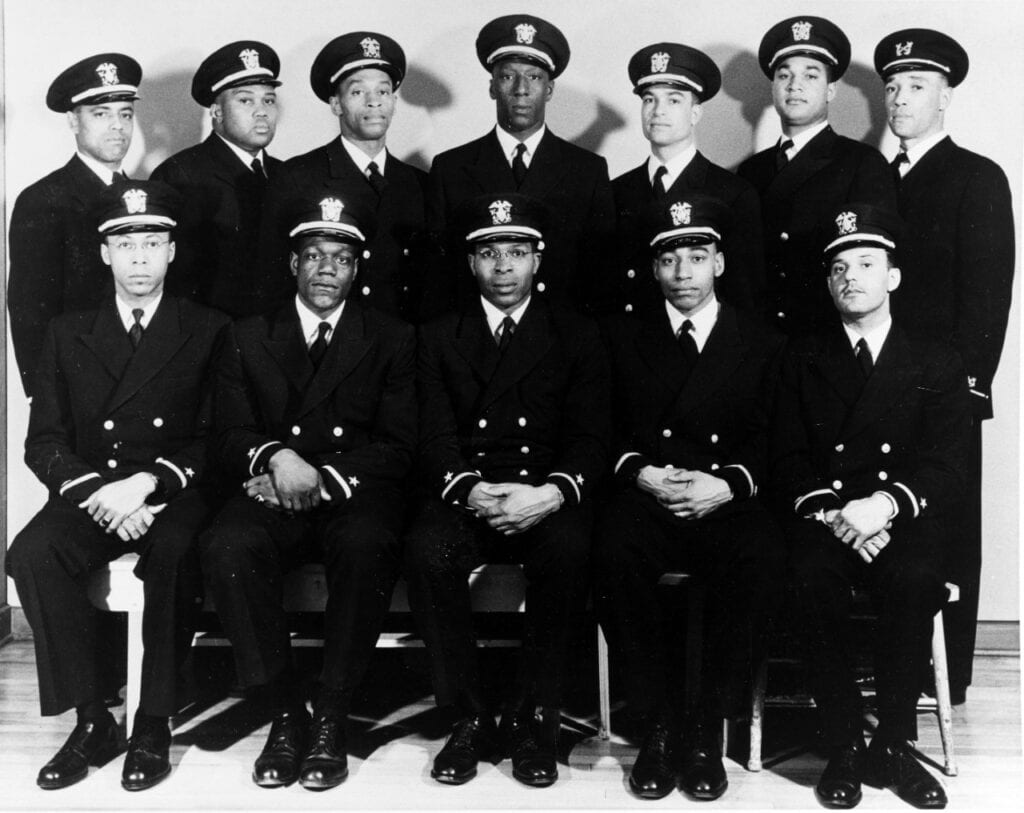 The U.S. Naval Institute noted Martin "… had a master's degree in history when he enlisted in the Navy in 1942. He was the only Black player on the top-notch Great Lakes Naval Training Center football team. In early 1944, he was tapped for officer training and commissioned in March of that year. He then served as a battalion commander at Great Lakes, on board a yard patrol craft and a yard oiler at San Francisco, as athletic training officer in Hawaii and in Eniwetok [in the Marshall Islands], and as a public information officer. After leaving the service in 1946 he earned another master's degree in education and embarked on a career of teaching and coaching at both collegiate and high school levels."
His leadership is recalled with fond memories by a number of people who knew him from his days at Crispus Attucks High School.
"He demanded that we be the best we could be and then more," stated David Carther, director of communications of the Crispus Attucks Alumni Lettermen's Club. "We all have our personal stories … For me, had it not been for coach Martin I would not have had a suit for my graduation. He challenged me to achieve an objective in the wrestling state tournament sectionals and if I achieved the goal he would help me get a suit for graduation. I graduated wearing a tailor-made suit out of his generosity! I have never forgotten that!"
Others shared the sentiments of Mr. Carther.
"Graham E. Martin was a man who was accomplished in many things, but you would never know it because of his humble nature," noted Teddy Williams, president of the Crispus Attucks Alumni Lettermen's Club. "He had long since pushed his accomplishments aside to display a strong Black male image to his students and players. We as students and players, never knew about his prestigious history until much later after we graduated … He was exceptional, full of wisdom and a historic figure working right among us and we didn't know it at the time."
"Coach Martin was a true educator with a quiet dignity, a role model with a strong demeaner and a person that let his actions do his talking," Williams continued. "Coach Martin didn't take no mess! Strong and to the point was his persona. I remember vividly the times when I would see him standing at the door of his classroom, writing letters in long hand, to colleges and universities to secure roster spots for his Attucks players. He would often send film to college and university coaches while often resending them until he received offers for us players. This was in the days of no e-mail and no digital game film, just old fashion snail mail and phone calls with sustained follow up."
Mr. Williams stated that he and his teammates "…never had the best uniforms or equipment but, he taught us how to do the best and play the best with what we had. Because I had no father in my home, coach Martin would leave his wife and daughter to represent me on dad's day at the college he helped secure for me and several other teammates. coach Martin did this for four years and needless to say his actions inspired me and is the reason why I recognize him as great human being who gave of himself even when he didn't have to. There are many other examples of him motivating, challenging and inspiring me …"
"I owe a great deal to this man who saved me from a life of destruction and who was the catalyst of who I am today," Williams detailed. "My story is repeated hundreds of times as verified by other Attucks players when we share stories of his impact on our lives. During his tenure at Crispus Attucks High School coach Martin planted seeds of success, dignity and respect in the lives of many African American students and players. We were blessed to have him as a teacher and coach – for that reason his memory lives on today."
Martin was born in 1917; he died in 2006.
When you visit the Lieutenant Junior Grade Graham Edward Martin Park, as you enjoy the beauty of the site, remember the man whose name graces the sign. A man who helped change Indianapolis and helped change a nation.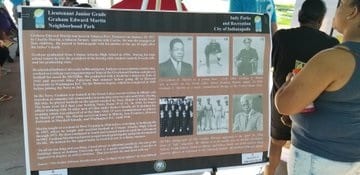 Do you have questions about communities in Indianapolis? A street name? A landmark? Your questions may be used in a future news column. Contact Richard McDonough at whatsinanameindy@usa.com.