The Roman Catholic Church in Indianapolis opened its doors to Black people during a time when others turned their backs. Opposition to educating Black children was common in Indiana. The laws of the state explicitly called for separate but equal services for the citizens living in Indiana. Leaders within the church worked within that reality of the times by creating new opportunities where few existed.
This column highlights one of the parishes in Indianapolis and how its buildings were utilized to put the words of the church into deeds. A second column will continue the story of this parish as well as others that stood for all in Indianapolis.
St. Bridget Roman Catholic Church (hereafter referred to as St. Bridget Church) was founded in 1879, with construction starting in June of that year at a site on West Street (now known as Dr. Martin Luther King, Jr. Street) at Saint Clair Street. The neighborhood at the time of the founding of the church was called Jimmy Blake's Woods. The sanctuary of Saint Bridget Church was dedicated on Jan. 1, 1880.
This parish was primarily designed to serve the Irish immigrants that had already settled here as well as those that were anticipated to move to Indianapolis in coming years. Eventually, the congregation developed into one that was primarily composed of Black people. Some reports indicated Black people were part of St. Bridget Church from its initial founding.
The name of the parish was chosen to recognize one of the three patron saints of Ireland — St. Brigid; the other two patron saints of Ireland are St. Patrick and St. Colmcille. (Many people use St. Bridget when referring to the saint in the English language; St. Columba is also used as the spelling for St. Colmcille.)
The feast day of St. Bridget of Ireland was removed from the official Roman Catholic Church calendar by Pope Paul VI in 1969. The Pope took this action for a number of saints that the Church determined were lacking a confirmed history. While the feast day for St. Bridget of Ireland was removed, there is still an annual feast day for St. Bridget of Sweden on the church calendar on July 23.
One of the aspects that the church could not definitely confirm was whether St. Bridget of Ireland actually existed or if her life story was a legend. Her name was also the name of a Celtic Goddess that many Irish worshipped prior to Ireland becoming primarily Roman Catholic. A number of reports indicated that Saint Bridget (the person) was conceived as the daughter of a slave and a high-ranking nobleman who owned her mother as property.
For many of the Irish, whether she was real or a legend, is somewhat immaterial. It is what she stands for that matters. The story – the legend – indicated that her compassion and kindness were illustrated by her willingness to help people in need.
A year after the church's dedication, the parish added a school to its property when St. Bridget Roman Catholic School was founded in 1881. It was also called St. Bridget Roman Catholic Academy. Hereafter, this school is referred to as St. Bridget School.
In the late 1800s and early 1900s, separate but equal was public policy of the State of Indiana and was practiced by many — within and outside of governmental services — in Indianapolis. This included elementary school operations within the Roman Catholic Church in Indianapolis.
St. Bridget Church created a separate elementary school for "colored children": St. Ann Roman Catholic School (hereafter referred to as St. Ann School). This school opened on Fayette Street at its intersection with Pratt Street (today known as Ninth Street) in 1892. When referring to this school, some newspapers at that time added the wording "for Colored Children" or "for Negro Children" in news reports.
The funeral notice for Rev. Daniel Curran, the first parish pastor of St. Bridget Church, provided some context of the times. Published on Dec.17, 1918, in The Indianapolis News, the funeral notice stated "Father Curran's greatest and lifelong ambition was for the amelioration of the condition of the colored people among whom he was regarded as a patriarch and was widely-known for his benevolence. He established the only school in Indiana for colored Catholic children, now known as St. Ann's school at Fayette and Pratt streets."
St. Ann School closed in 1919. At that time, the students were moved to the St. Rita Roman Catholic School (hereafter referred to as Saint Rita School) at 1816 N. Arsenal Ave. That school was founded as part of the newly created St. Rita Roman Catholic Parish. According to the Roman Catholic Archdiocese of Indianapolis, Saint Rita School was designed to be the sole Roman Catholic elementary school for Black children within Indianapolis.
The building that had housed St. Ann School then became the St. Bridget Parish Hall and was used for overall parish activities. In later years, the structure was used as the DePaul Center, a youth center for Black children. The DePaul Center was dedicated on June 24, 1945. This building was eventually demolished, and the grounds are now used today as a playground for the St. Mary Child Center.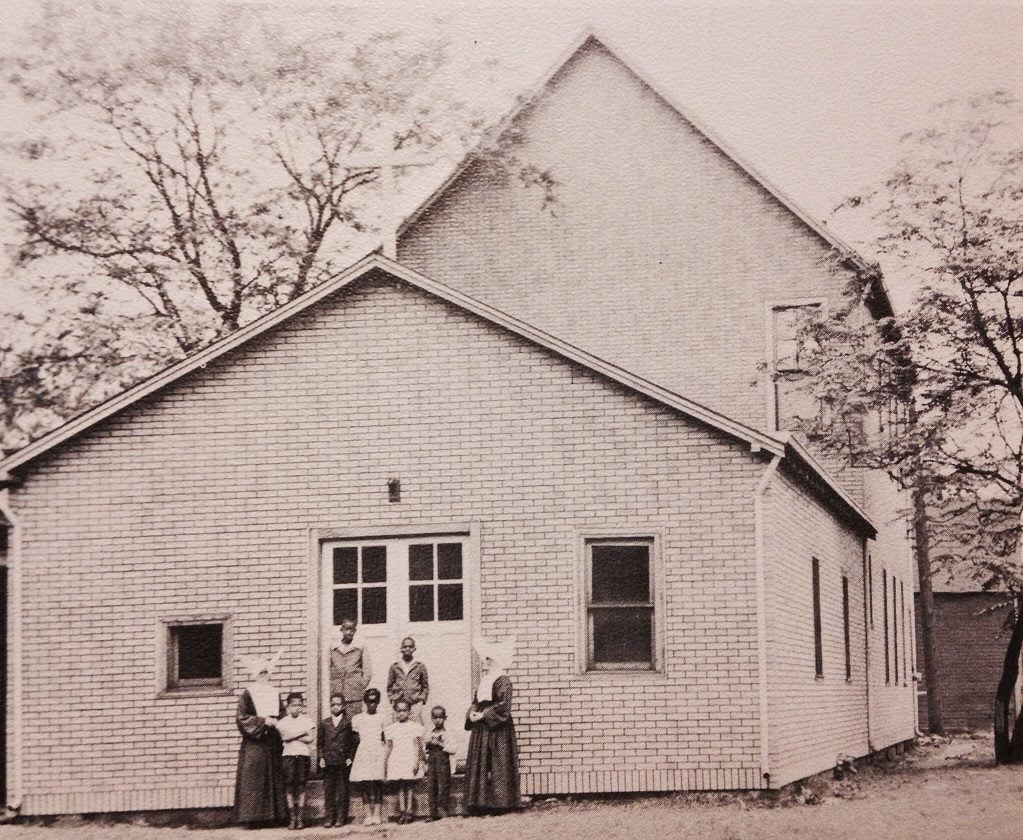 Future editions of What's In A Name, Indy? will provide additional details of the role of the Roman Catholic Church in the lives of Black people living in Indianapolis.
Do you have questions about communities in Indianapolis? A street name? A landmark? Your questions may be used in a future news column. Contact Richard McDonough at whatsinanameindy@usa.com.