Each of the present names of four of the major east-west streets in Haughville have different originations. One was named for a general and political leader, while one was named after a state whose territory that political leader helped govern. Another roadway was named after a tree, with the other street named after a number.
Three of these four streets had previous names in the years past.
Tenth Street was, obviously, named after the number. It is supposed to be the tenth street north of Washington Street, but "tenth" depends on how you count streets and where you are physically in Indianapolis.
Previously, this street was known as "Grand View Avenue" in Haughville; in some reports, the name was spelled as "Grandview Avenue." The name came from the "grand views" that could be seen in this area of Marion County. According to notes from the Indianapolis Water Company, "Grand View Avenue" was renamed as "Tenth Street" in 1897.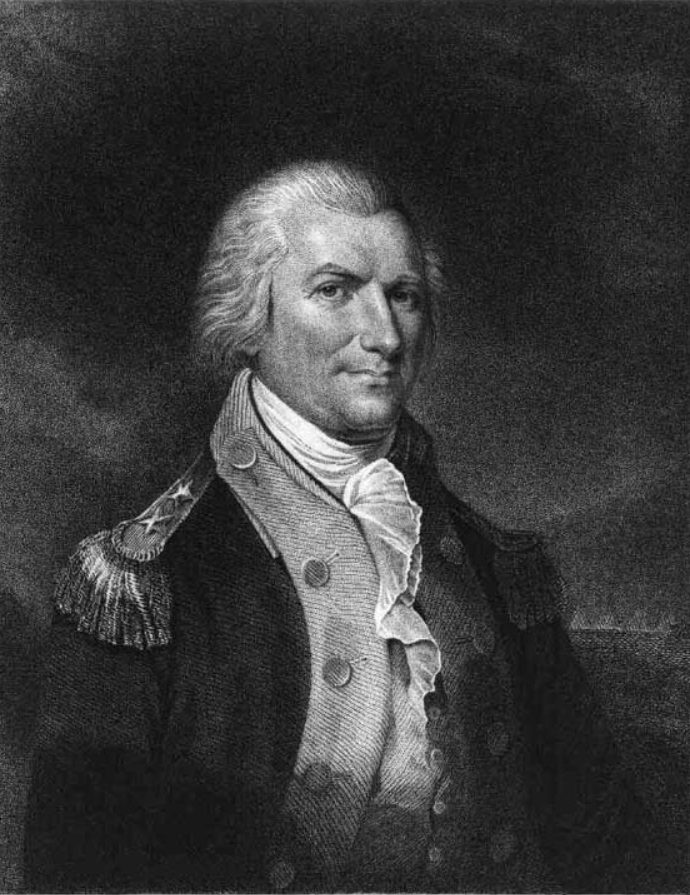 Walnut Street got its name from the Walnut tree. Previously, this street bore the name of "Frazee Street." It is not certain for which "Frazee" the roadway was named. Though it is also not certain when the roadway was renamed as "Walnut Street," the first use of "Walnut Street" in this location appears to have been in an advertisement in The Indianapolis Journal on Aug. 29, 1898, and the last use of "Frazee Street" in a local newspaper appears to have been in a news article in The Indianapolis Journal in 1899.
Michigan Street, like many of the earliest named streets in Indianapolis, was named in honor of a state. Michigan, like Indiana, was initially part of the Northwest Territory established by the new United States of America in 1787. In addition to these two states, the Northwest Territory included the lands that became the states of Illinois, Ohio and Wisconsin as well as part of Minnesota. In 1800, the Northwest Territory was reduced in size to include only Ohio and parts of Indiana and Michigan; the remaining part of Northwest Territory then became a separate territory with the name of "Indiana Territory."
Michigan Street in Haughville was established separately from the Michigan Road that connected Indianapolis to Lake Michigan in the north and to the Ohio River in the south.
St. Clair Street was named in honor of Major General Arthur St. Clair.
This street previously had two different names. Initially, the roadway was called "Summit Street." At some point, the roadway was renamed as "Calvelage Street."
A. H. Calvelage was elected as a Trustee of Haughville on May 7, 1884, according to a news article dated two days later in The Indianapolis Journal. Subsequent news articles indicated he was active in business activities in addition to governmental affairs in Haughville.
The Indianapolis News reported in a news article dated Feb. 19, 1890, that "Mr. A. H. Calvelage, President of the Board of Trustees [of Haughville], owns a mineral well 1,271 feet deep, with water strong enough to take the scales off a mackerel. He has erected a bath house with six bath rooms. Mr. Calvelage is opposed to annexing Haughville to the city [of Indianapolis] on account of the low tax rate and the good prospect of a fire department in that place."
On Sept. 7, 1900, The Indianapolis Journal reported that A. H. Calvelage had been issued a building permit for a stable at King Avenue and Calvelage Street; the value of the stable to be built was listed as $400.
While notes from the Indianapolis Water Company state that "Calvelage Street" was renamed as "St. Clair Street" in 1916, news articles in The Indianapolis Star and The Indianapolis News were still using the name "Calvelage Street" in news articles as late as 1918. Advertisements continued using the name of "Calvelage St." in The Indianapolis Star as late as 1919.
Even the city of Indianapolis — through its Department of Public Works — was still using the name of "Calvelage Street" in a legal notice in The Indianapolis Star as late as Nov. 1, 1918.
Maj. Gen. Arthur St. Clair was born in Scotland and served in the military of the United Kingdom from 1757 to 1762, according to his biography provided by the United States House of Representatives. That biography indicated that he served in the Pennsylvania Militia and Continental Army for the newly formed United States of America during the Revolutionary War, that he was a member of the Continental Congress from 1786 to 1787, and that he served as the President of the Continental Congress in 1787.
"While serving as a delegate to Congress, St. Clair was made Administrator of Indian Affairs, responsible for enforcing the terms of treaties made with the Indian peoples [Native Americans] of America's western territories," noted a statement from the Library of Congress. "Later, he was named Governor of the Northwest [Territory]. … Although St. Clair successfully supervised the implementation of Native American treaties in 1784 and 1785, the Indian people [Native Americans] claimed that the treaties had been imposed on them by force and fraud. Dissatisfaction led to warfare in 1791, during which General St. Clair was badly defeated."
He served as Governor of the Northwest Territory until 1802. He died in 1818.
In addition to St. Clair Street in Indianapolis, a number of other roadways, municipalities, counties, and other institutions have been named in his honor in several of the states that were originally part of the Northwest Territory as well as in communities beyond the boundaries of that territory. These include, among other places, St. Clair County in Alabama; St. Clair County in Illinois; St. Clair County in Michigan; the City of St. Clairsville, Ohio; and Upper St. Clair Township in Pennsylvania.
Information about the names of additional local streets in Haughville will be detailed in Part Five.
Do you have questions about communities in Indianapolis? A street name? A landmark? Your questions may be used in a future news column. © 2022 Richard McDonough. Contact Richard McDonough at whatsinanameindy@usa.com.