In the late 1800s, a rural area of Wayne Township was developing into what became known as Haughville. Among the initial residents of the farmland in the area as well as of this new community were, according to a registration form from the National Register of Historic Places, people who had immigrated here from Ireland. Information presented by The Polis Center indicated that the population of Haughville was primarily composed of people of Irish and German heritage in the early 1880s.
As development took place, new residents to Haughville came from a different section of Europe — the lands of what is today Slovenia.
George Lambert is the individual credited with bringing a number of Slovenians to Haughville. Various news reports indicated that he was also known as "Juri Lampert" and "Jurij Lampert." According to his gravestone at Holy Cross and Saint Joseph Cemetery in Indianapolis, Mr. Lambert died at the age of 62 in 1925. One source indicated his birth name — before being Americanized — was "Jurij Lumpert."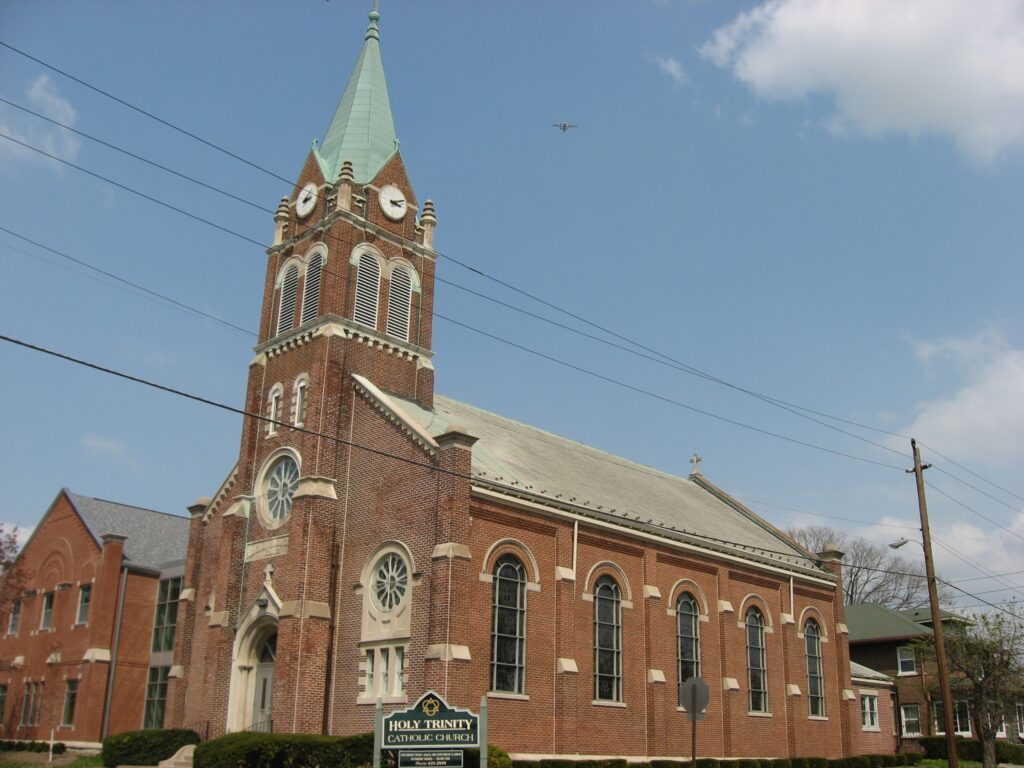 The Polis Center reported in a brochure, Near Westside Neighborhood – 1830-1998, that Mr. Lambert started to recruit men to work at National Malleable Castings Company, a major industrial concern in Haughville. That brochure indicated that the recruitment efforts began in 1885; other news sources indicated that recruitment of Slovenians began in 1895.
Mr. Lambert made arrangements for National Malleable Castings Company to pay for immigrants to travel from what is now Slovenia to Haughville, according to news reports. In exchange, the immigrants had to work for the company for a specific period of time.
The details of these indentured servitude efforts — number of years individuals were required to work for the company, amount of money to be repaid to the company or other items — are not known.
At the time that the Slovenian men immigrated to Haughville, Slovenia did not exist as a separate country. Instead, what is now the independent nation of Slovenia was part of the Austro-Hungarian Empire. As World War I ended, the lands populated by Slovenia joined with territories populated by Serbians, Croatians, Bosnians and other nationalities in the Balkans to form what eventually became Yugoslavia. In 1991, after a short war, Slovenia became a distinct independent country.
The obituary of the wife of George Lambert, Mary Lambert Sadar, in June of 1951, indicated that Mr. Lambert made seven trips to the Austro-Hungarian Empire. She moved to Indianapolis — with four children — following one of those trips, according to the obituary.
The Slovenians were among a group of immigrants from Eastern Europe that were called "Hunyaks." Considered to be a derogatory term, the word came "from the word 'Hunk,' a 19th [century] corruption of Hungarian, and 'yak,' a colloquialism used to indicate a 'low brow' or 'round head,'" according to a news article in The Indianapolis News on May 9, 1908. This newspaper article indicated that "Hunyak" was "a nickname that originated, it is thought in Indianapolis … in the dawn of the twentieth century, and now applied to [immigrants] from all the Balkan states and southeastern Europe to the United States."
The Indianapolis News made the point, in this same news article, that there were some "very good citizens" among the Slovenians that lived in Indianapolis: "In Haughville where the Slovenians are grouped and where they have their families, and one can see that, after all, these 'Hunyaks' have in them some points that may make them, in the second or third generation … very good citizens."
"The 'Hunyaks' do not like the name that has been fastened on them in Indianapolis and Indiana," noted this news article in The Indianapolis News. "When one probes them for the reason of their dislike of the word 'Hunyak' one finds that it has become odious to them because of the contemptuous manner in which it is generally pronounced."
The Polis Center, in the brochure noted above, indicated that by 1900, "almost half of the residents … [of Haughville were] Slovenian immigrants."
As the Slovenian population grew in Haughville, civic, educational and religious entities developed as well in this section of Indianapolis. Holy Trinity Roman Catholic Church was founded on April 29, 1906. It was established as a Slovenian National Church. This meant it was not a geographic-based local parish, but instead, its congregation was based on an ethnic group.
The status of this church changed in 1948; it was no longer considered a national church but from that year forward, it was considered a local parish church. Holy Trinity Roman Catholic Church was closed, according to the Archdiocese of Indianapolis, and was merged into Saint Anthony Roman Catholic Church on Nov. 30, 2014.
While few people with Slovenian heritage live in Haughville today, the relationship between Slovenia and Indianapolis continues through the Indianapolis Sister Cities International Program. One of the nine sister cities to Indianapolis is Piran, Slovenia. According to the city of Indianapolis, the relationship between the two cities dates back to Sept. 2, 2001.
A document from what was then called the "Mayor's Office of International and Cultural Affairs" within the city of Indianapolis indicated that: "This partnership would lead to collaborations between Indianapolis and the Slovenian city's higher learning institutions. The long history of Slovenian immigration in Indy, and support from the ethnic community, was also thought to be beneficial for the partnership, whose cultural initiatives would strengthen the bond between the people of the two cities."
Additional information on Haughville will be detailed in Part 3.
Do you have questions about communities in Indianapolis? A street name? A landmark? Your questions may be used in a future news column. © 2022 Richard McDonough. Contact Richard McDonough at whatsinanameindy@usa.com.