It's been six months since the U.S. Supreme Court overturned Roe v. Wade, allowing each state to decide whether abortion should be legal. Since the court's decision, Indiana drafted, passed and signed a bill to further restrict abortion access, but the law has since been blocked on two separate occasions.
As of right now, abortion rights are protected in Indiana, but many wonder what the future holds for safe and legal abortion access in the state.
Timeline of Indiana's abortion law
On June 24, Roe v. Wade was overturned by the U.S. Supreme Court, making way for each state to decide whether abortion should be legal.
Hoosiers from all around the state protested outside of the Indiana Statehouse the next day.
Indiana legislators convened July 25 for a special legislative session to discuss the abortion bill drafted by Republicans. Even Vice President Kamala Harris got involved, coming to Indianapolis to support abortion rights.
Gov. Eric Holcomb signed the near-total abortion ban Aug. 5, making Indiana the first state to pass new legislation that further restricted abortion access since Roe v. Wade was overturned.
The law went into effect on Sept. 15 and banned abortions with a few exceptions, including incest, rape and if the pregnancy would have "substantial permanent impairment" to the mother's life.
However, a week later, the law was blocked by an Owen County judge who said the law violated the state constitution. This allowed for legal abortions to continue throughout the state up to 20 weeks post-fertilization or 22 weeks of pregnancy.
On Dec. 2, a Marion County judge further halted the ban, ruling it violates Indiana's religious freedom law that was signed in 2015 by former Gov. Mike Pence.
Community's response
Health professionals, religious leaders and other members of the community have had various responses.
Indiana resident Christy Johnson, 49, told the Recorder she wished her mother could have had an abortion 50 years ago, even if that means she would not be alive today.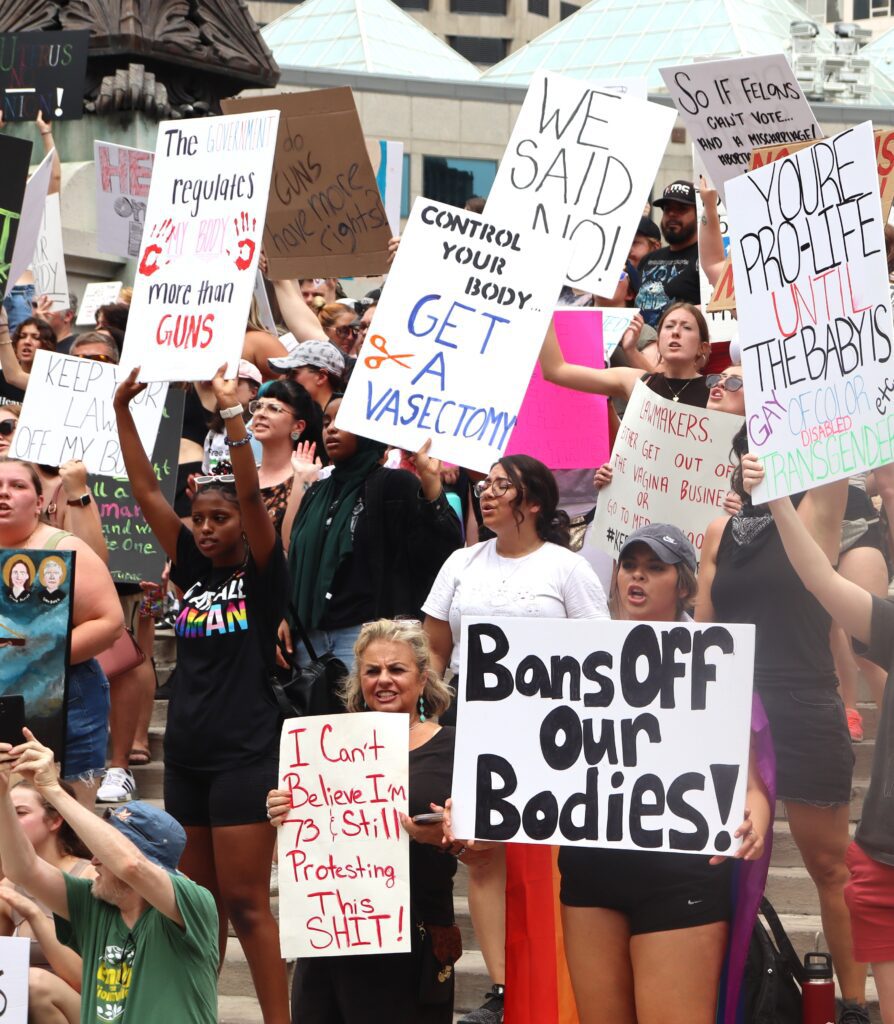 "I really wish she could have had an abortion for her," Johnson said in an interview. "It ruined our relationship before it even started. My mother wasn't able to ever really connect with me."
Dr. Caitlin Bernard, an Indiana OB-GYN, received backlash after discussing an abortion procedure she provided to a 10-year-old girl from Ohio.
More: 'We deserve a choice': Black women voice concerns during abortion protest
Some who would describe themselves as pro-life, like Dr. Reginald Fletcher, pastor at Living Word Baptist Church, still did not believe the U.S. Supreme Court's decision was rational.
"Even though I support pro-life, that does not negate the fact that they are hurting people that need support," he said in an interview before the law was passed. "My faith is based upon the life that Jesus Christ set for us as an example. I want to first hear what people are going through in order to help them from a balanced perspective, not by what I think is right and what I think is wrong."
What's next?
Abortion is still protected in Indiana for now, but in January, the Indiana Supreme Court is scheduled to hear an abortion ban challenge on the grounds that the ban violates the state's constitution.
Contact religion reporter Abriana Herron at 317-924-5243 or abrianah@indyrecorder.com. Follow her on Twitter @Abri_onyai. Herron is a Report for America corps member and writes about the role of Black churches in the community.