The Fever defeated the L.A. Sparks 101-96 on Friday for the team's third victory of the season. Indiana got the win in Carlos Knox's first game as a WNBA head coach.
Knox became the team's interim head coach on Wednesday after the Fever let go of Marianne Stanley. The win also broke a five-game losing streak for the Fever.
On Thursday, Knox said it was his "dream" to be a head coach at this level. After getting his first victory as a WNBA head coach, Knox took his time to relish the moment as he walked off the court. Knox was seen giving hugs and handshakes to family, friends and members of the Fever organization.
"It was very touching," Knox said after the game. Knox said he had friends, family and fellow IUPUI alums in the building to witness his first game as a WNBA head coach.
"A lot of people were able to make it out to see my first debut game," Knox said. Knox called it a "heartwarming" moment to celebrate the victory.
"There's no one more deserving than him," Fever rookie NaLyssa Smith said. "When genuine people get things that they deserve, it just makes you feel good."
"I was just glad that we were able to bring him his first win," Fever forward Victoria Vivians said.
Kelsey Mitchell led the Fever with 22 points on 7-of-14 shooting. It was the sixth game of the year with 20 or more points for Mitchell.
"I told her in the game to keep firing, keep letting it go," Victoria Vivians said of Mitchell's night.
Mitchell wore mitch match shoes late in the game due to a malfunction. Mitchell, who's a Nike athlete, says the air bubble in her sneakers "kept busting," causing her to make a change. Mitchell said that a team manager ran to her car to retrieve her backup pair of shoes.
Five Fever players—Mitchell, Vivians, NaLyssa Smith, Emily Engstler and Danielle Robinson—scored more than 10 points. Indiana's 101 points were the most its scored in a game this season.
"We have so many talented players on this team, we don't expect nothing less," Smith said.
This was Smith's first game back after missing four games with a right ankle sprain.
"It felt amazing to be back," Smith said. "Every single day I was hurt, I was just counting the days down for when I could come back and play with this team."
"NaLyssa Smith's presence alone brings a tremendous amount of confidence to our team," Knox said. "Her ability to see the game is tremendous."
Danielle Robinson had 10 points and 11 assists for her first double-double of the year.
Knox detailed a conversation he had with Robinson on Thursday, when she asked Knox what she was doing wrong.
Knox responded by saying that her focus was about a "seven and a half" on a scale of 1 to 10. "I don't think you're all the way here yet with your focus level," Knox recalls saying.
Robinson just finished up an overseas season in Turkey that caused her to miss the first three games of the WNBA season. Knox feels it can be difficult to make that quick of a turnaround.
Knox said that Robinson looked him dead in the eye and said "Coach, I understand what you're saying." Robinson felt that it was the "absolute truth" that she hadn't fully focused on the WNBA season yet.
Knox claimed that Robinson was "extremely focused" at Friday's pregame shootaround, and that led to her stellar performance.
"She controlled everything on offense and defense," Vivians said. Vivians scored 17 points herself, which was her sixth game in seven outings scoring 15 or more.
Six-time All-Star and 2016 WNBA MVP Nneka Ogwumike had 30 points and 10 rebounds for the Sparks in a losing effort.
Four-time All-Star Liz Cambage scored 13 points and was 2-for-11 from the field for L.A. Cambage had 22 points and 11 rebounds when the Sparks beat the Fever on May 8.
"We wanted to make sure that we were at least disruptive," Knox said. "When you have a force like Liz, it's very difficult if you allow her to get position in the paint."
"Our main focus was her this game," Vivians said. "If you get Liz out of it, you have a chance of winning the game."
This was the first game of the year at the Indiana Farmers Coliseum for the Fever after playing their first five games at Gainbridge Fieldhouse. Gainbridge Fieldhouse has begun the final phase of its "Fieldhouse of the Future" construction, so the Fever will play nine home games at the Coliseum before playing the final five home games at Hinkle Fieldhouse.
Mitchell said the venue change may have contributed to the team's 11-of-21 3-point shooting. "We have that extra home feeling here," Mitchell said.
The Fever are now 3-7 on the year. They'll have the weekend off before facing the Washington Mystics at home on Tuesday night.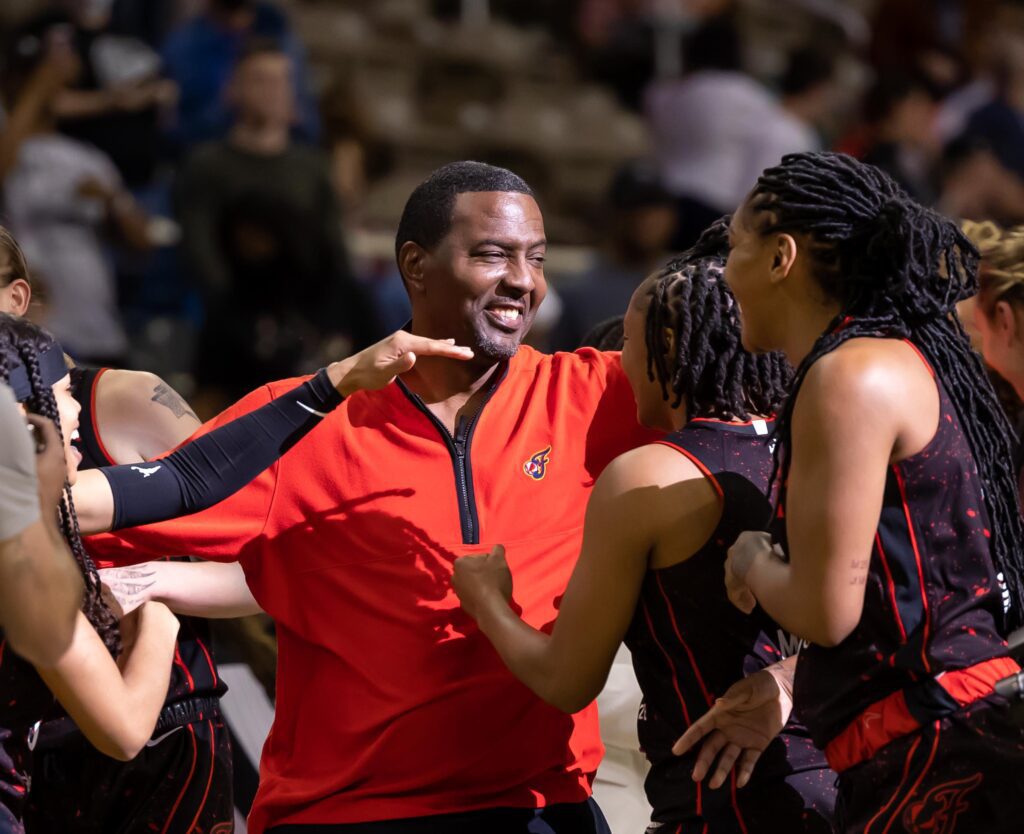 Zion Brown is a sports reporter for NextGen Sports, a collaboration with The Recorder Media Group.