In April 2019, after years of overseas basketball and a battle with cancer, 2011 Indiana Miss Basketball Bria Goss got the opportunity to compete in the Fever's training camp. The two-time state champion got a shot to make her hometown team.
Goss made it through the entirety of training camp and preseason but was waived three days before the regular season began.
"I just see it as it wasn't meant to happen," Goss said. "I was there to start opening doors for my next thing."
Like everyone else in training camp, Goss was there for basketball first. But the former Ben Davis star realized this opportunity could open avenues beyond what she could do on the court.
So Bria Goss talked. And talked. And talked.
She talked to "anybody that would listen." Goss used her month on the team to connect with media members, teammates like Natalie Achonwa and Candice Dupree and then-general manager Tamika Catchings.
"It helps to put yourself out there and talk because you'll never know who's going to pick it up," Goss said. Knowing that she could get waived, Goss entered camp with the mindset that "Something good still can come from this experience if I opened up."
After being waived, Goss returned to Europe to play in Slovakia at the beginning of 2020. After the 2020 Slovak Women's Basketball Extraliga season ended due to the pandemic, Tamika Catchings reached out to Bria.
But this time, it wasn't an invitation to play on the team. It was to join the broadcast booth.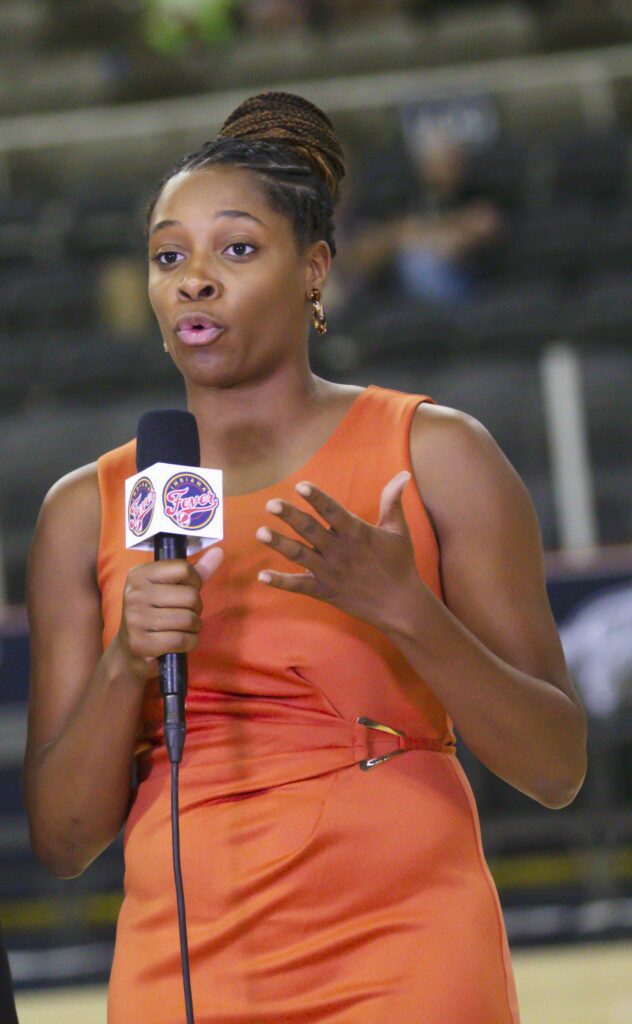 Catchings had caught word of Bria's broadcasting aspirations during that 2019 training camp. When a second color commentator position opened before the 2020 WNBA "Wubble," Goss was approached to fill the role. Goss is now in her third season as a broadcaster for the Fever.
"I could not have gotten in this situation without the Fever training camp," Goss said. All the talking and getting to know people paid off for Goss.
"One day, basketball's going to be done," Goss said. "Being able to go from basketball and transition right into my next career was such a big thing for me."
---
Make no mistake, Goss is still going strong as a player. She has played seven seasons of professional basketball after finishing her four-year career at Kentucky in 2015.
This past season, Goss played for Luleå Basket in Sweden. The team had a 24-2 regular season as Goss was second on the team in scoring with 19.6 points per game. This was her first year playing in Sweden.
"I had a great time," Goss said of her 2021-22 season in Sweden. "This team was a very good fit for me."
Goss played in Finland, Israel, Slovakia and Romania before this past season in Sweden. She says she hasn't had this type of organization and camaraderie with any of her past pro teams.
"I haven't, in my experience, had a lot of teams that were just structured," Goss said. She said the structure extended "from the players to the coaching staff to the support staff to the chef to our travel plans."
Luleå Basket won 17 consecutive games to open the season. Goss says the group clicked automatically, which isn't common for overseas teams.
"I had not felt that kind of chemistry since that Ben Davis team," Goss said. "We had great conversations. We were open, we were honest. We enjoyed each other's company so much."
Despite dominating the regular season and sweeping the first two rounds of the playoffs, Luleå Basket lost 3 games to 1 against Norrköping in the Basketligan Dam Finals. Goss had a 31-point performance in Luleå Basket's only win of the series. Goss will return to Sweden this fall, where she feels like she and the team have "unfinished business."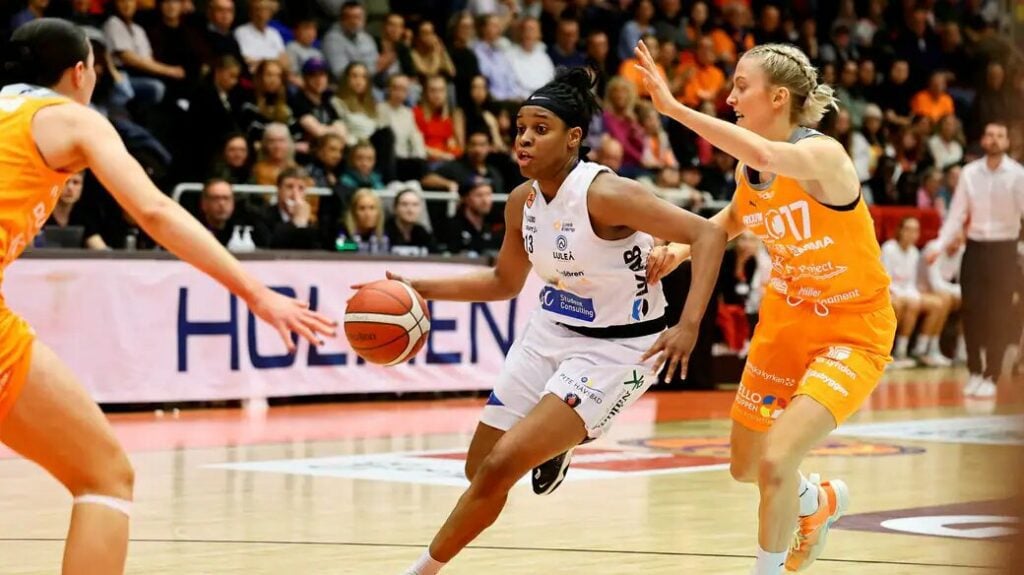 "It was good but it could've—and should've—been better," Goss said of this past season. "I'm kind of going in there with a little different mindset of 'yeah that was great, but I've got some work to do'."
After the disappointing end of the season, the team stayed in town a little longer for what Bria describes as a "Sunday Funday."
"People are usually ready to go home by the end of the season, but we're trying to see when we can spend some more time together," Goss said. "Usually, during the duration of the season, people are starting to get tired of each other. That never happened."
---
Once Bria did come home, her on-court focus shifted to another league: The City League. Bria has returned for her second season in the six-week summer tournament in Indianapolis.
Last season, Goss joined the league right before rosters became final. The league was better than she could've imagined.
"I didn't expect it to be as good as it was last year," Goss said. "The sense of that community was so important."
It took some convincing for Goss to join the league last season. Former Indiana All-Star (and fellow TCL player) Porchia Green was the first to inquire about Goss joining the league. It was Maddie McConnell, Bria's TCL teammate and a board member for the league, who got Goss to fully commit.
Goss played for Breakfast Club last season, as they lost in the tournament. Now, Goss is back playing for Horizon League and competing for the $5,000 prize.
"As soon as we lost last year, I was really looking forward to getting back to it," Goss said. Bria, her sister DeAirra, Victorian Lipscomb and Kia Harris have all returned from last year's Breakfast Club team to go after the prize with Horizon League.
Horizon League is currently 3-0 and tied atop The City League standings (although Bria made sure to point out that her team's point differential was higher than the other 3-0 squad). Last week, Goss earned the first triple-double in league history with 24 points, 10 rebounds and 10 assists.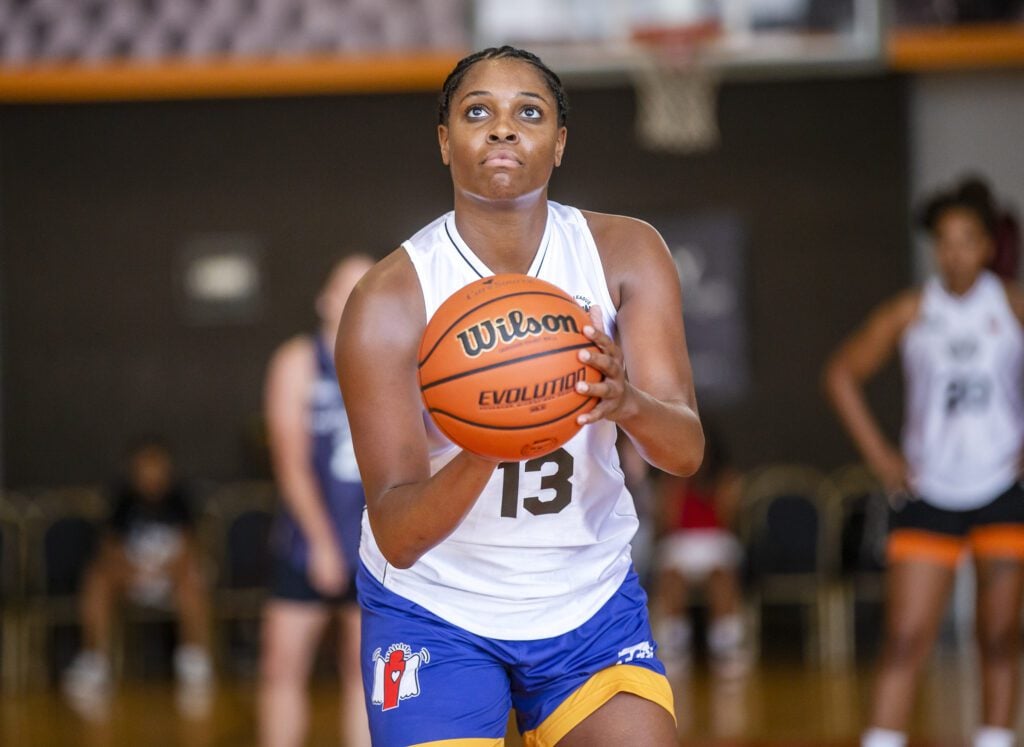 "If I'm on the cusp, I need to get it," Goss said of getting that triple-double. She was an assist and two rebounds shy of getting one in the game before but made sure to get the job done last week.
The City League has three pool play games left before a single elimination tournament occurs on August 7. The championship game will then be on August 11. Goss and the Horizon League are trying to tighten up before tournament play begins.
"I think we are getting better each game," Goss said. "Our chances are pretty good, especially if we can kind of catch these teams off guard."
Bria is reaching goals both on and off the court. What seemed like a missed chance for Goss in 2019 has turned into a successful transition for Goss when she hangs it up (but that may not be for a while). 
Zion Brown is a sports reporter for NextGen Sports, a collaboration with The Recorder Media Group.