The Fever have hit a rut in their season, losing nine consecutive games. Seven of those nine losses have come by double-digit points. Indiana now has a 5-22 record, good for the worst in the WNBA.
Simply put, this team has no momentum as the season begins to wind down. This season is officially all about developing the Fever's five draft picks (if it wasn't already). The Fever have added two rookies through midseason acquisitions, but for now, we'll just focus on the five draftees.
Here is how those five draft picks are performing with most of their rookie season behind them.
NALYSSA SMITH (NO 2. OVERALL, BAYLOR)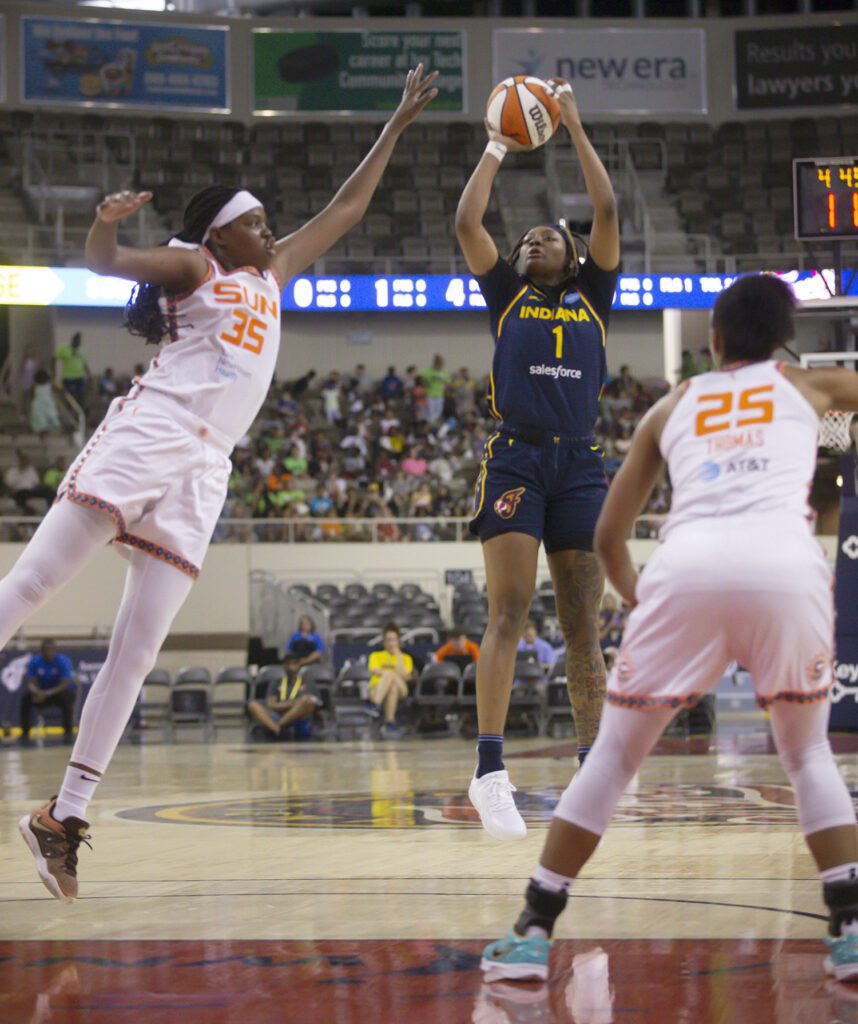 After having an incredible stretch leading into the last check-in, NaLyssa Smith has come back down to earth a bit.
In the last nine games, Smith averaged 11.8 ppg, 7.8 rpg and 1.1 apg. Smith is averaging 13 ppg, 8.4 rpg and 1.4 apg this year.
Smith is having a rough stretch when it comes to scoring the ball. Smith only made 36.9 percent of her field goals and 30.8 percent of her 3s in this nine-game stretch. Smith had a 44.8 true shooting percentage in this stretch, which is well below the league average of 53.8 percent.
Free throws have continued to be an issue for Smith. A 76.8 percent free throw shooter in college, Smith is shooting 58.8 percent at the line this year. Smith made just 62.9 percent of her free throws in the last nine games.
Smith is still finishing inside at a high rate, as she made 69.2 percent of her shots within five feet, but she's struggled with her touch from all other areas of the court.
Rebounding has still been Smith's strongest quality. She gets the fifth-most rebounds per game in the WNBA. Per Her Hoop Stats, Smith's 24.4 percent defensive rebound rate is in the 91st percentile of the league. Smith averaged a double-double during her senior season at Baylor, and that rebounding prowess has transferred to the pros.
From my viewpoint, it seems like Smith is doing a better job at nailing things on the defensive end. Smith has been the team's de facto backup center because there's only one true center on the roster. When Queen Egbo missed two games during this stretch, Smith started at the center position.
On/off numbers can be a bit deceiving, but the Fever have been significantly better on defense when Smith is on the court. By no means is Smith a positive defensively, but she's done a better job at figuring out small things on that end.
It's been a rough stretch for NaLyssa Smith and the Fever. Smith has been below her season average in most statistical categories lately. A large part of being a pro is finishing a season strong even when playoff chances are slim. We'll see if Smith is able to regather and perform well in the final nine games.
EMILY ENGSTLER (NO. 4 OVERALL, LOUISVILLE)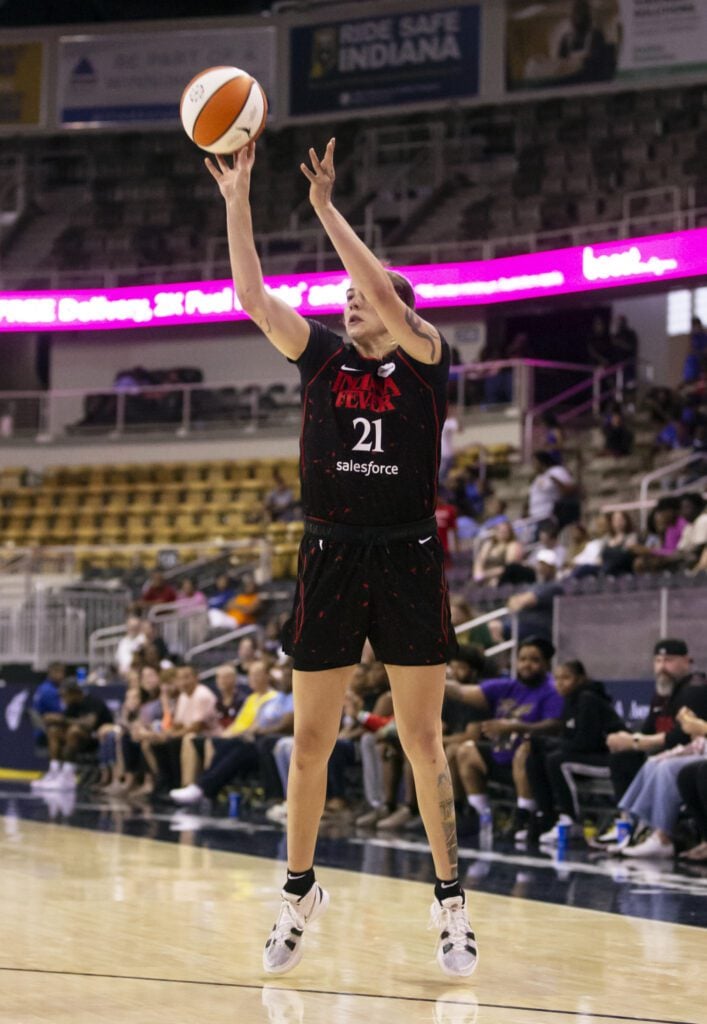 Emily Engstler, like many Fever players, has struggled offensively as of late.
Engstler averaged 4 ppg, 4.6 rpg and 1.9 apg over this stretch. She has averaged 5.3 ppg, 5.7 rpg, 1.6 apg and 1.2 bpg this season.
While there have been some nice flashes on the offensive end, Engstler has mainly struggled on that end. She hasn't reached double figures in scoring since May 27. Engstler only made 37.5 percent of her field goals in the last nine games. On the bright side, Engstler made five of her eight 3-point attempts during this period.
Engstler has continued to struggle with finishing at the rim. She only shot 5-of-15 inside of five feet in the past nine games, and she's only made 45.8 percent of shots within five feet on the year. She shows the ability to pump fake and drive inside the lane, but she seldom finishes off her good possessions. Engstler's youth, mixed with being a somewhat-undersized power forward has led to some underwhelming results at the rim.
Rebounding is the area where Engstler has brought the most offensive value. Her 67 offensive rebounds lead the WNBA. While she hasn't excelled at creating her own shot, Engstler often creates second opportunities for the Fever by crashing the boards.
Defense will always be Engstler's calling card. She has the fifth-most blocks in the entire league. She makes very timely rotations and has pretty good hands that allow her to cause deflections.
The one thing that's held Engstler back defensively is fouls. She has the second-worst foul rate in the WNBA. Engstler only averaged 17.6 minutes per game in the last nine games, yet she committed three or more fouls in seven of those nine games. Part of the reason for Engstler's limited playing time is the fact that she faces constant foul trouble. The issue has plagued her all season, and she won't be able to become the best version of herself until she stops fouling as much.
Overall, Emily Engstler has a long way to go to be a positive player on the offensive end (although the boards help). She has to either finish better or find a more consistent jump shot. Defensively, Engstler's activity is much better than you'd expect of a rookie. Anybody that watches can see that the potential is there for Engstler, it's just about putting it together.
LEXIE HULL (NO. 6 OVERALL, STANFORD)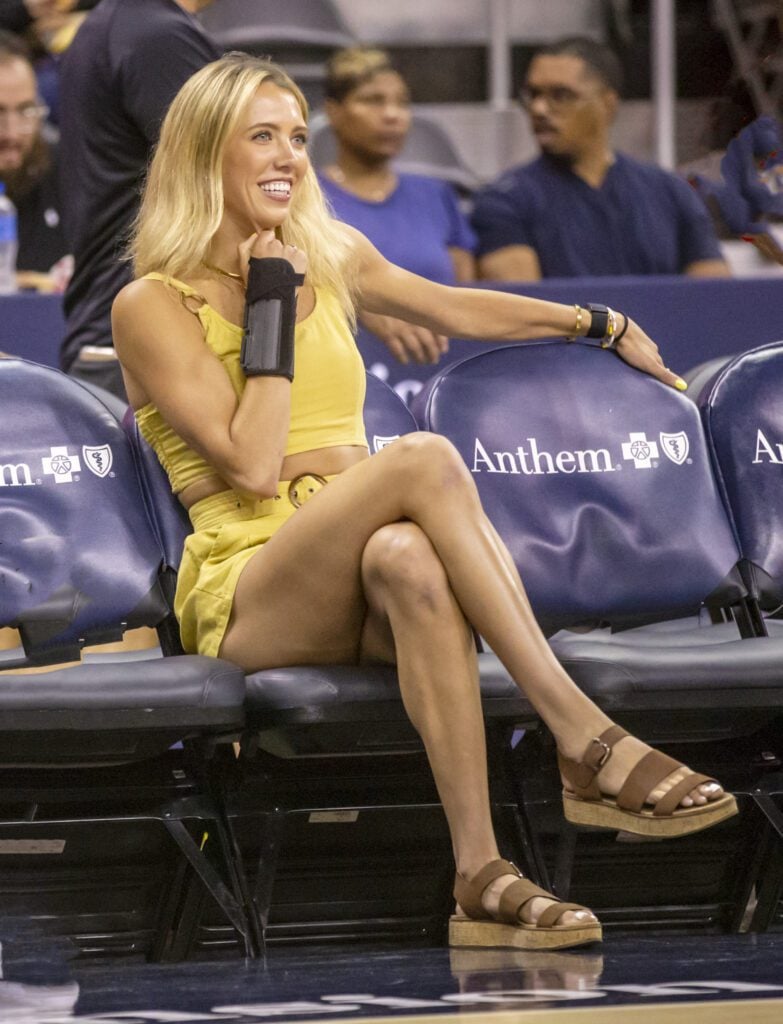 Lexie Hull has played the least of the Fever's five draft picks. Just when it appeared Hull was going to get some consistent playing time, a right wrist injury forced her into missing the last five games.
In the four games she did play, Hull averaged 1.6 ppg, 2 rpg and 1 apg. Hull has a season average of 2 ppg, 1.3 rpg and 0.5 apg.
It's been more of the same for Hull even when she played. Hull has given the team minimal production so far this year. It was tough for Hull to crack the guard rotation early on and she still hasn't played enough to have a vast reaction to her performance.
Hull got her first career start against the Storm. She hurt her wrist that same day. She scored four points and grabbed five rebounds in 24 minutes that game.
For now, the question around Hull is just when she returns to the lineup. The Fever recently waived Bria Hartley, which could open up more consistent playing time for Hull when she comes back. We'll see if Hull can become the sharpshooter the Fever need her to be when she returns.
QUEEN EGBO (NO 10. OVERALL, BAYLOR)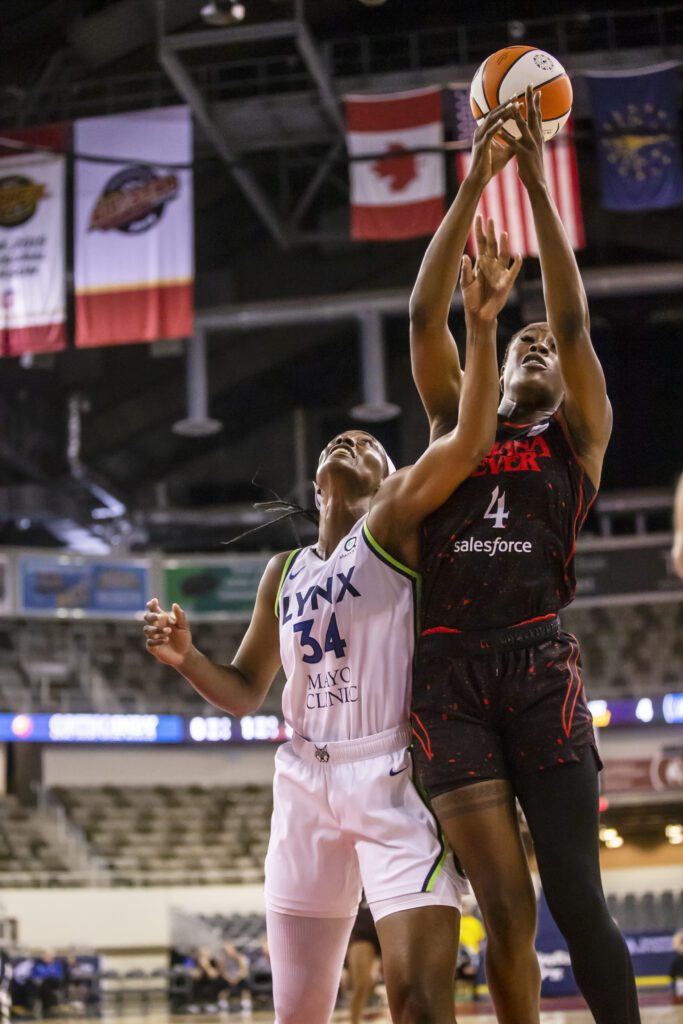 The WNBA's health and safety protocols forced Queen Egbo, the Fever's lone true center, to miss two games during this most recent stretch. Indiana had its two worst defensive games of July during Egbo's absence.
Egbo averaged 8.9 ppg, 7.4 rpg and 0.6 apg in the seven games during this stretch. She is averaging 7.7 ppg, 6.7 rpg, 1 apg, 1.2 bpg and 1 spg this season.
After a poor midseason stretch, Egbo has stepped it up for her best offensive stretch of the season. Egbo has scored 10 or more points in four of her last seven games. On July 1, Egbo tied her season-high with 14 points to go along with 12 rebounds.
Egbo had a true shooting percentage of 54.2 percent in this period, which is above league average. Egbo has displayed a much better touch in recent games than she did earlier in the season. Per WNBA.com, Egbo shot 8-of-16 from the five to nine foot range over this period.
After Sunday's game, Egbo said, "I feel like I'm at my best when I'm making shots on the block, but I'm also stretching the defense and hitting that 15-foot shot."
Her ability to get the right touch on shots recently has helped Egbo play much more efficiently on the offensive end. Egbo still isn't necessarily someone who can create her own offense, but she's been a useful play finisher for the Fever recently.
On defense, Egbo is one of the best rebounders in the league. She has a 26.1 percent defensive rebound rate, which ranks eighth in the WNBA (per Her Hoop Stats). With Egbo on the court, the Fever's team defensive rebound rate is around league average. When Egbo is not in the game, Indiana becomes the worst defensive rebounding team in the league.
That rebounding provides so much defensive value for the Fever, and the team plays better on that end when she's in the game. Egbo also is a valuable rim protector for this Fever squad. She is by no means one of the best rim protectors in the WNBA, but she's the best the Fever have.
Egbo has blocked 31 shots this season, which is the sixth-most in the WNBA. Her 26 steals are tied with Ezi Magbegor for the most by a center in the league. Egbo has been disruptive with her hands and she's used her supreme athleticism to her advantage.
Like Emily Engstler, Egbo has been in too much foul trouble lately. Egbo had had three or more fouls in three consecutive games.
On Sunday against the Storm, Egbo had 13 points and six rebounds, but her five fouls limited her to 16 minutes of action. Egbo had a +4 +/- in those 16 minutes, but the Fever still took a 16-point loss. If Egbo played over 20 minutes in that game, it could've gone much differently. Instead, the Fever's defense fell apart because her fouls forced her off the court.
Queen Egbo has been the Fever's most consistent rookie as of late. She's been the only one of Indiana's rookies that has shown true two-way value recently. When she is able to stay on the court, good things happen for the team.
DESTANNI HENDERSON (NO. 20 OVERALL, SOUTH CAROLINA)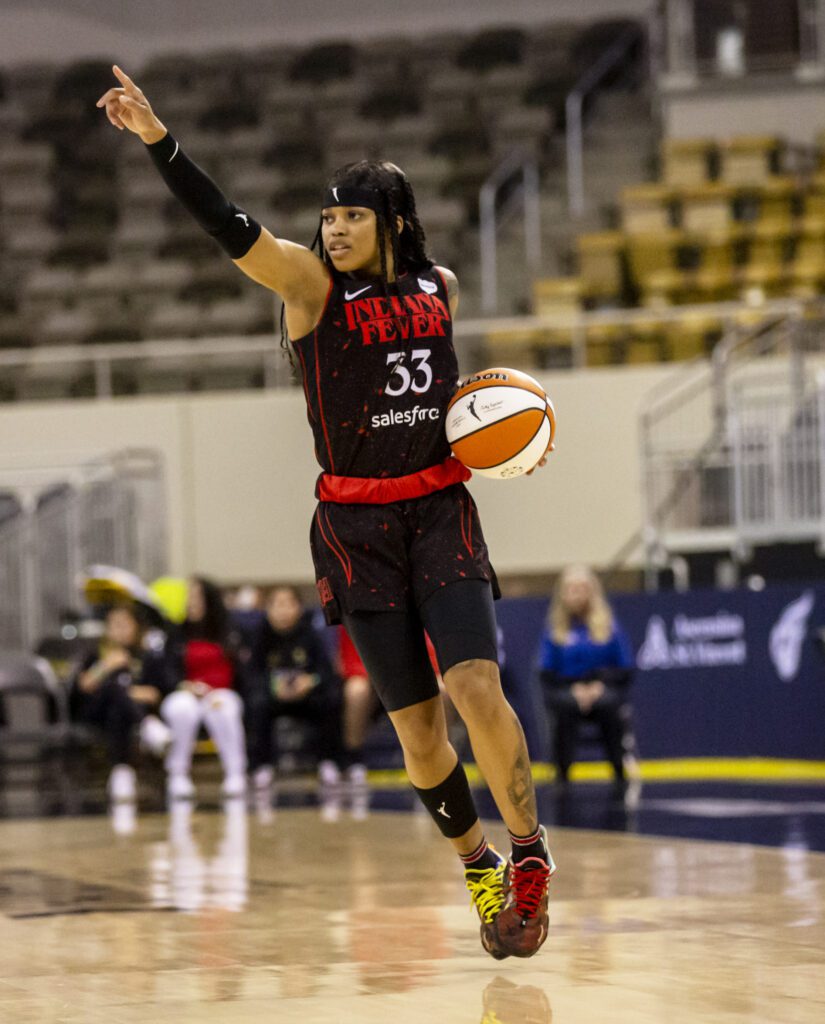 Destanni Henderson played less in this most recent period than she did earlier this season. Henderson and Engstler are still the only two rookies to play all 27 games this year for the Fever.
In these last nine games, Henderson averaged 3.4 ppg, 1.3 rpg and 1.3 apg. She is averaging 5.1 ppg, 1.6 rpg and 2.2 apg this year.
Henderson had a wonderful start to the season but hasn't had quite the same effect since then. She got just 12.7 minutes per game in the last nine games, with three games below 10 minutes played. Fever interim head coach Carlos Knox has done quite a bit of experimentation with Indiana's rotations, and Henderson's playing time has wavered as a result.
It's been a small sample size, but Henderson is finishing much better as of late. She shot 7-for-10 inside of five feet during the last nine games. That mark is well above her average 43.1 percent within five feet. Despite going just 4-for-14 from 3 in this stretch, Henderson still ranks seventh in the WNBA with a 42 percent 3-point percentage.
Henderson hasn't offered much resistance defensively. Henderson's lack of size and experience have led to poor defensive results when she's on the court. This is something that Henderson will have to work on going forward. She showed glimpses of defensive reliability in college, but it may take some time before she's at that level in the WNBA.
It will be interesting to track how much Henderson plays for the Fever in the final nine games of the season. She hasn't scored double-figure points since May 24, so we'll see if she can give the Fever some quality production again to end the season.
Zion Brown is a sports reporter for NextGen Sports, a collaboration with The Recorder Media Group. Stats provided by herhoopstats.com, basketballreference.com, and WNBA.com.