The Fever are officially halfway through the WNBA regular season. The Fever have a record of 5-13 through 18 games. That is the second-worst record in the league.
Indiana is the rare team that consistently plays five rookies. The Fever made big waves with four top-10 selections in the 2022 WNBA Draft. I checked in on the five Fever rookies nine games into the season. Let's see how those five are faring with another nine WNBA games under their belt.
NALYSSA SMITH (NO 2. OVERALL, BAYLOR)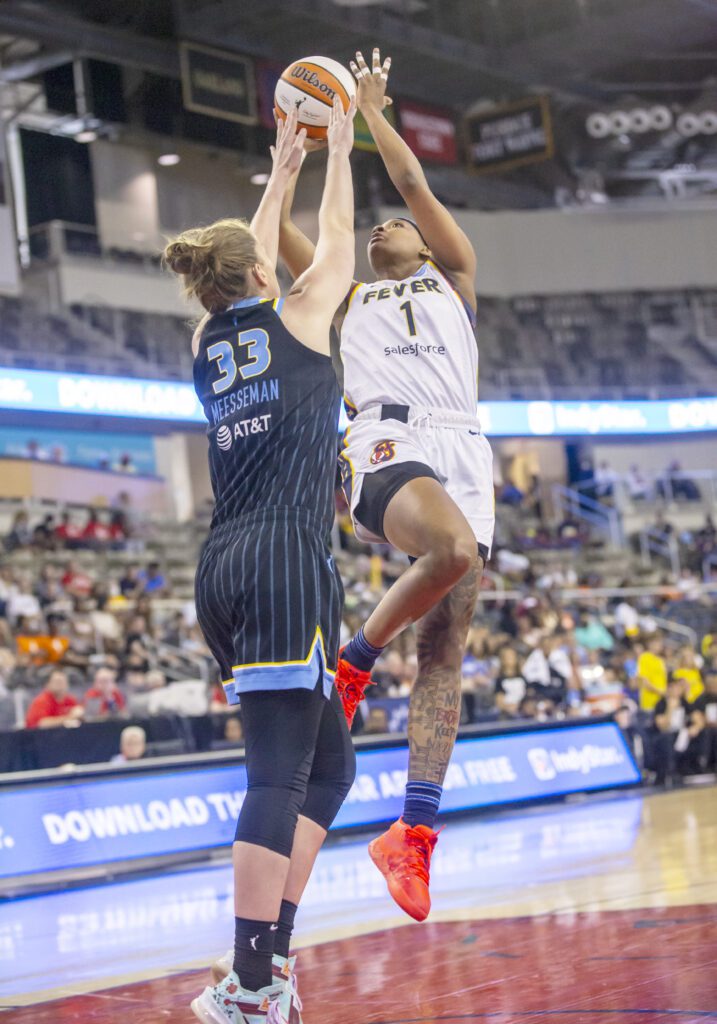 After missing four games early on with a right ankle sprain, NaLyssa Smith returned just in time to play the next nine games for the Fever. Smith returned with a 17-point performance in a win against the L.A. Sparks on May 27 and she didn't look back from there.
In the last nine games, NaLyssa Smith is averaging 14.3 ppg, 8.2 rpg and 1.7 apg. Smith is averaging 13.9 ppg, 8.9 rpg and 1.6 apg for the season.
Smith has made clear improvements in the last three weeks. Her efficiency has been impressive, as Smith shot 48.1 percent on field goals and 39.1 percent on 3-pointers in this nine-game stretch. Smith still only shot 69.6 percent at the foul line which is baffling for a player that made 76.8 percent of her free throws in college. She has made just 55.6 percent of her free throws through 14 WNBA games.
Since the last rookie check-in, Smith's true shooting percentage has increased from 43.5 percent to 50.3 percent. Smith had a 54.6 true shooting percentage in this period, which is above league average.
From my perspective, the development of Smith's jump shot has opened up driving lanes to attack. She's been able to utilize pump fakes to get the rack much more. Smith made just 42.4 percent of her 2-pointers in her first five games and she has hit 50.6 percent of her 2s in the last nine games. If Smith has already been able to unlock herself as a three-level scorer, then the WNBA is in trouble.
Smith had two incredible games in this stretch. The first game came on June 12 when Smith had 21 points, 14 rebounds, four assists and two blocks in a win against the Minnesota Lynx. That was Smith's career-high in scoring until Sunday when she scored 26 points and had 11 rebounds in a victory over the Chicago Sky.
"She's just in a different mindset now and she understands the significance of what it takes to be a professional basketball player," Fever interim head coach Carlos Knox said of Smith after Sunday's game.
One thing that has declined slightly is Smith's rebounding. Smith was averaging a double-double at the last check-in, but she has dropped to 8.9 rpg. Many of the Fever's rebounding numbers have gone down, as Indiana has the second-lowest defensive rebound rate in the WNBA. The Fever have played the Connecticut Sun—the league's best offensive rebounding team—three times already, so Indiana's decreased rebounding is somewhat exaggerated.
Even with the rebounding drop-off, Smith's 16.6 percent total rebound rate ranks 10th in the WNBA (per Her Hoop Stats). Her 8.9 rpg is the fifth-best in the league.
NaLyssa Smith has introduced herself to the Rookie of the Year race and flashed what her potential can be down the line. The next nine games of the season could see Smith take an even larger jump.
EMILY ENGSTLER (NO. 4 OVERALL, LOUISVILLE)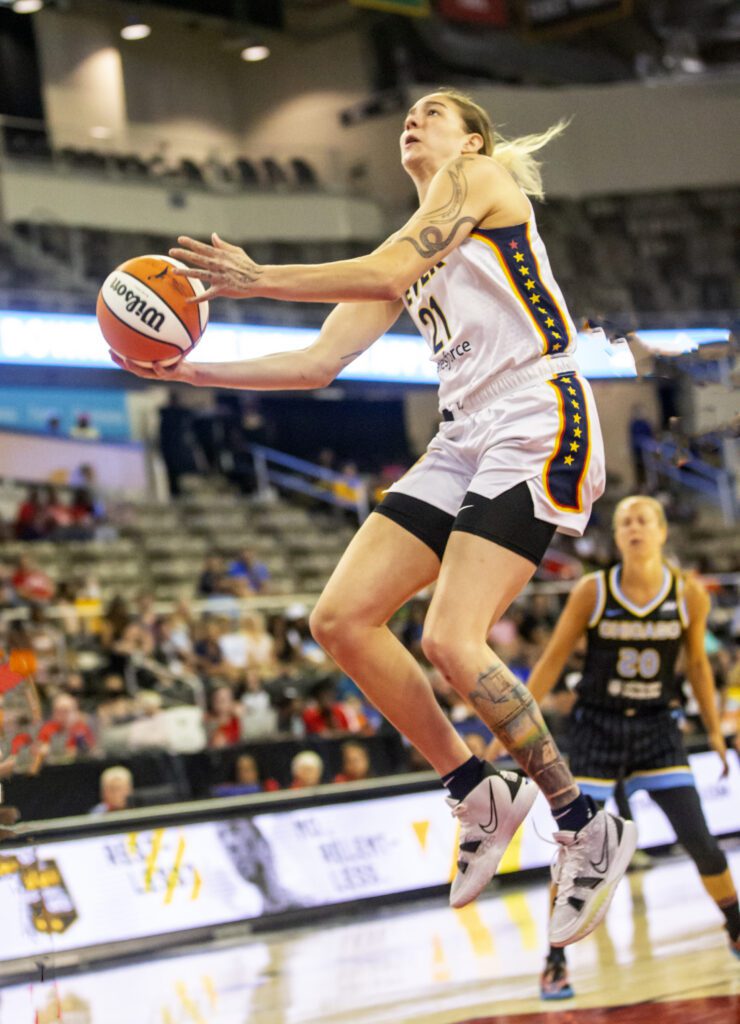 Emily Engstler has returned to coming off the bench in the last nine games due to Smith's return.
In those nine games, Engstler is averaging 5.0 ppg, 5.6 rpg, 1.4 apg, 1.7 bpg and 1.0 spg. Engstler is averaging 5.9 ppg, 6.3 rpg, 1.4 apg and 1.4 bpg on the season.
On May 27 against the Sparks, Engstler had 13 points, nine rebounds and four blocks. Those 13 points were Engstler's career-high, but she hasn't been able to produce much offense since. Engstler shot 35.7 percent on field goals, 23.1 percent on 3s and 33.3 percent on free throws during this stretch.
Over half of Engstler's field goal attempts have been within three feet but Engstler has made only 50.7 percent of those shots. Even though Engstler has taken so many shots at the rim, she's only attempted 11 free throws (making just four) through 18 games. Of the 93 players who have played at least 200 minutes this season, Engstler has the seventh-worst free throw rate in the WNBA.
Engstler made 37.2 percent of her 3s in her last two college seasons, so the Fever hoped she could make a similar amount of 3s in the WNBA. So far, she has shot 20 percent from deep, which has limited her offensive impact.
The good news is that Engstler is still one of Indiana's best defensive players. After all, that's why she was drafted. Engstler's 25 blocks are the fifth-most in the entire WNBA. Some of Indiana's best defensive stints have come with Engstler on the floor protecting the paint.
Like Smith, Engstler hasn't rebounded as well in the last nine games, but she is still tremendous on the glass. Per Her Hoop Stats, Engstler has the fifth-best total rebound rate (18.6 percent) and the second-best offensive rebound rate (14.7 percent) in the WNBA. Rebounding has been Engstler's most valuable offensive skill, as she helps create extra possessions for the team. Engstler's offensive rebounding has played a large factor in the Fever having the third-best offensive rebound rate in the WNBA.
Defensively, Engstler has been able to make an immediate impact while showing that there's more potential. However, the team has struggled offensively with Engstler on the floor. Whether it be finishing, shooting or both, Engstler has to develop an offensive trait that's good enough to keep her on the court for long stretches.
LEXIE HULL (NO. 6 OVERALL, STANFORD)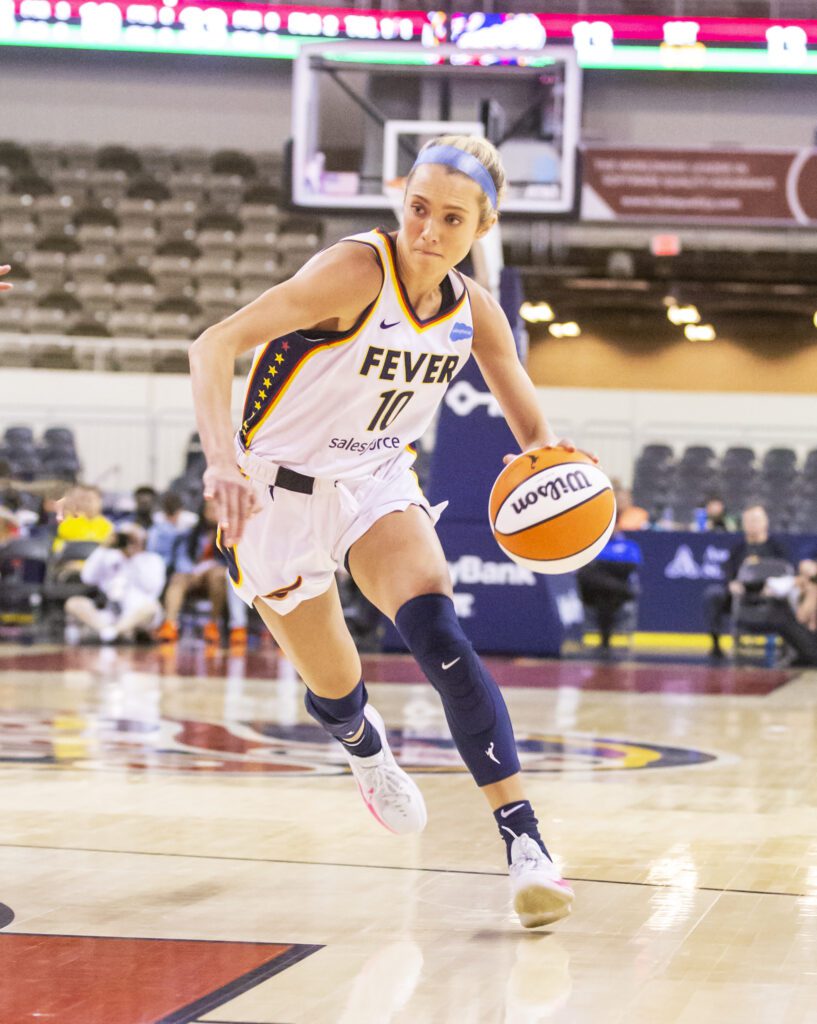 Lexie Hull has still struggled to get playing time early in her career. Hull hasn't gotten a consistent nod in the Fever's guard rotation, as she is playing just eight minutes per game and has been inactive in four games.
In seven games since the last check-in, Hull averaged 2.4 ppg, 1.3 rpg and 0.3 apg. Hull is averaging 2.3 ppg, 1.1 rpg and 0.4 apg in 14 games this season.
Hull's best moment came on Sunday against the Sky when she scored a career-high 10 points and grabbed three rebounds. Hull's 23 minutes on Sunday were also a career-high. In those minutes, Hull had a +/- of +15, which was the highest +/- of anyone in the game.
Sunday's game could mark the start of a turnaround for Hull. Carlos Knox noted that Hull has been performing well in practice lately. Knox feels Hull is "at a place where she can really perform."
For now, we'll have to wait and see. Hull is shooting 27 percent on field goals and 16.7 percent on 3s. Hull was drafted for her 3-and-D potential but she hasn't been able to prove that yet. Hull's performance on Sunday has given Fever fans optimism that a shift is on the brink. We'll see where she stands when the next rookie check-in comes around.
QUEEN EGBO (NO 10. OVERALL, BAYLOR)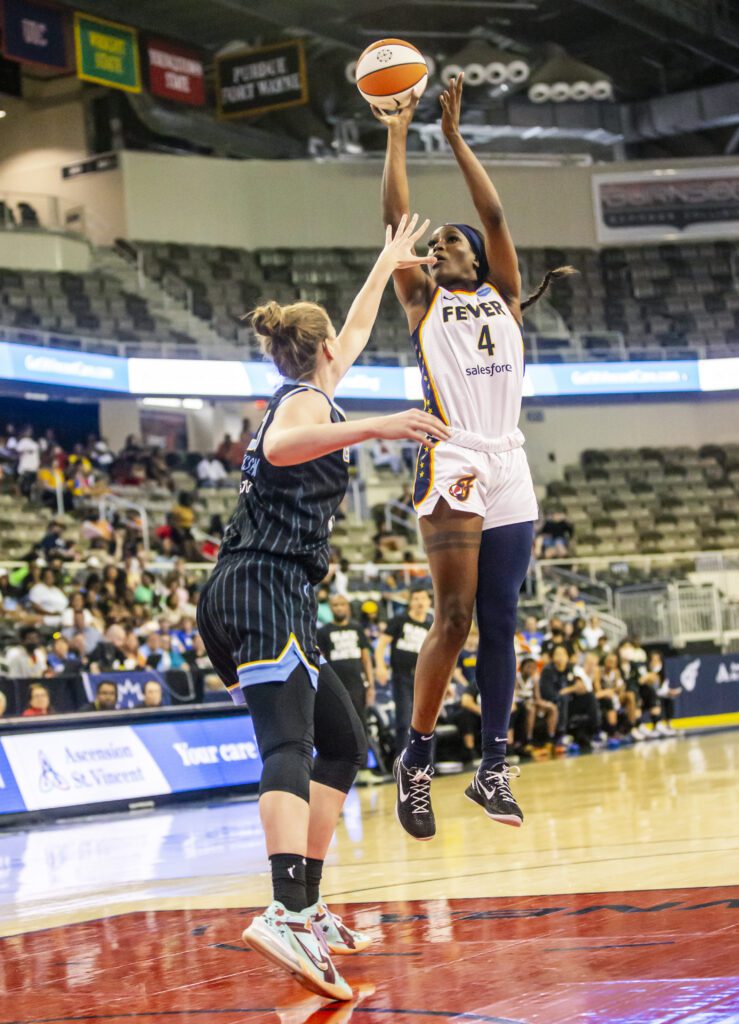 After being a surprise first-round pick, Queen Egbo has been the Fever's starting center in 17 of the team's 18 games.
In the last nine games, Egbo averaged 7.1 ppg, 5.1 rpg, 0.8 apg and 1.4 bpg. Egbo is averaging 7.2 ppg, 6.4 rpg, 1.2 apg, 1.4 bpg and 1.0 spg.
Egbo's offensive efficiency hasn't been great recently. She has made 36.2 percent of her field goals in the last nine games after making 50 percent in the first nine games. All of Egbo's field goal attempts have been 2-pointers, yet only 36.8 percent of her shot attempts are within three feet of the basket.
Egbo has experimented with a mid-range shot, but she is an abysmal 4-for-24 on those shots (per WNBA.com). Egbo's best skill is her length and athleticism. The Fever could emphasize getting her easier looks on lobs and drop-off plays at the rim. We'll see what her efficiency looks like going forward.
The one improved area for Egbo offensively is turnovers. At the last check-in, Egbo had a concerning 28.4 percent turnover rate. She was averaging 2.4 turnovers per game through nine career games. In the last nine games, Egbo has a 17 percent turnover rate and is averaging 1.8 turnovers per game. Egbo has clearly made a concerted effort to take better care of the basketball.
In the last three games, Egbo has 10 turnovers, which is closer to what she did earlier in the season. Either she is reverting to what she did earlier, or she just had a bad stretch of games. Time will tell if Egbo can continue to take care of the ball.
Where Egbo has continued to shine is on the defensive end. Egbo's 26 blocks are the fourth-most in the WNBA. Her 18 steals are tied with future Hall-of-Famer Sylvia Fowles for the most by a center in the league.
If the fact that she gets blocks and steals isn't enough, there is actual data that proves Egbo's defensive impact. With Egbo on the court, the Fever have a 104.3 defensive rating. With Egbo on the bench, Indiana has a 115.3 defensive rating, which is a difference of 11 points per 100 possessions. When Egbo plays, the Fever's defense is slightly below-average, but the Fever's defense has been dreadful with Egbo off the court.
There is clear evidence that Egbo's rim protection provides a large amount of value to the Fever. It's rare for a rookie to have the defensive impact that Egbo has had. Her rebounding also brings a lot of this value, as Egbo's 25.2 percent defensive rebound rate ranks ninth in the WNBA.
Foul issues were an issue for Egbo, as she averaged 3.8 fouls per game in the first nine games of her career. She's been able to tone that down by averaging just 2.4 fouls per game in the last nine games.
Queen Egbo is still a raw WNBA center with parts of her game that need refining, but it's hard to ignore some of the impressive flashes that the Fever have gotten from her early on. The Fever seemed to have nailed this draft pick and the team has acknowledged it by removing the presence of a traditional backup center. Indiana is all in on Egbo as the center of the future.
DESTANNI HENDERSON (NO. 20 OVERALL, SOUTH CAROLINA)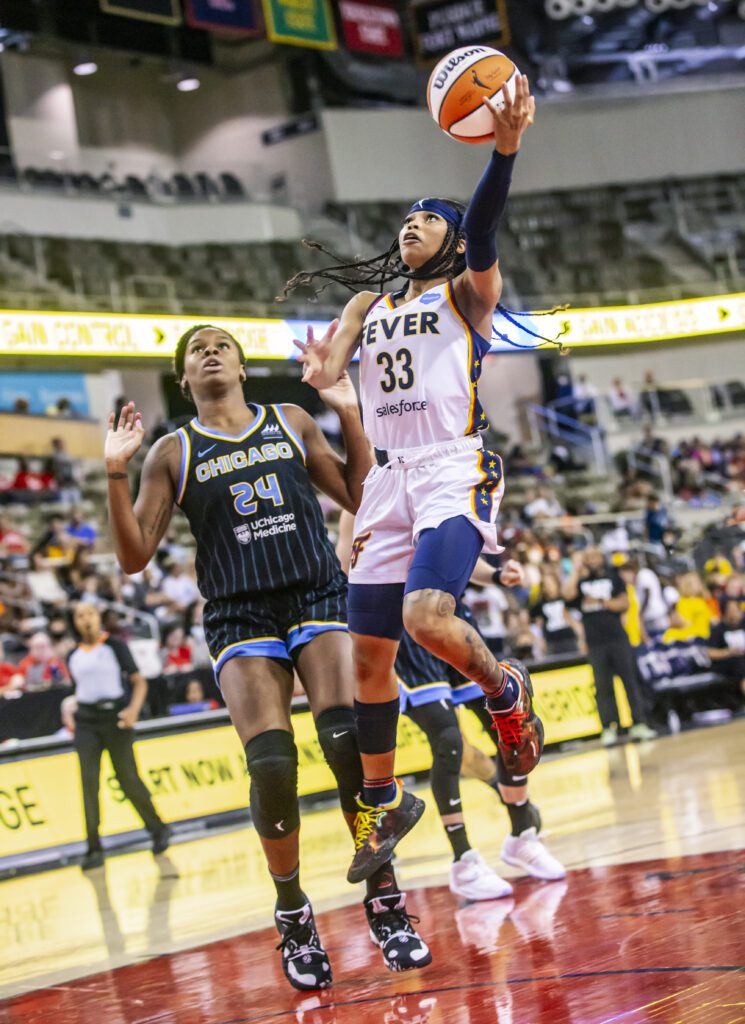 Destanni Henderson has shown flashes of excellence early in her career. There are also times when she's felt invisible on the floor. Henderson has potential that she is still trying to maximize.
In the last nine games, Henderson averaged 4.0 ppg, 1.9 rpg and 2.2 apg. Henderson is averaging 5.9 ppg, 1.7 rpg and 2.6 apg.
While Henderson is making a marvelous 47.2 percent of her 3s, she has made only 32.3 percent of her 2s. Henderson has not shown the ability to be effective inside the arc. She's made only 36.6 percent of her attempts within five feet.
Henderson had the same 2-point issues at South Carolina. She made just 40.6 percent of her 2s in her senior season. Finishing may never be something that the 5-7 Henderson is great at, but she needs to develop some sort of floater or pull-up jumper to fall back on.
Henderson's court vision has remained solid, as her 25.7 assist rate is the best on the Fever and ranks 18th in the WNBA. Henderson has consistently created quality looks for her teammates.
Another issue that has a lot to do with a lack of size is Henderson's defense. With Henderson in the game, the Fever have just not performed well on that end of the court. Henderson was seen as a positive defensive player at South Carolina but she also shared the court with Aliyah Boston, who was the 2022 Naismith Defensive Player of the Year.
About half of Henderson's minutes have come with Egbo on the floor, and it may be wise for the Fever to try to pair the two together even more to hide Henderson's defensive weaknesses. Making the transition to guarding pro athletes is always difficult, so there's a good chance that Henderson makes strides defensively as her career progresses.
Everyone can see Destanni Henderson's potential, it's just about putting it all together. Henderson's 2-point struggles have been concerning for a point guard that frequently has the ball in her hands. It will be fascinating to see how Henderson improves around the margins as the year continues.
Zion Brown is a sports reporter for NextGen Sports, a collaboration with The Recorder Media Group. Stats provided by herhoopstats.com, basketballreference.com, and WNBA.com.