As you travel today on Interstate 70 through Brightwood, you may not realize you're on land that once served Indianapolis through a different mode of transportation. A FedEx facility and wholesale food establishments now operate along and near Massachusetts Avenue on the ground that was once the Brightwood Airport.
In 1930, news reports detailed a number of glider flights that took place at Brightwood Airport. Crowds estimated in the range of 1,000 to 5,000 people would watch these air events, according to several news reports at the time. The gliders were typically launched at this airport by towing them with an automobile. News reports indicated some individuals were injured in these activities; at least one person died after falling with his plane from 5,000 feet in the air.
On May 30, 1931, the Indianapolis Recorder included an advertisement for "Colored Day at Brightwood Airport." The ad indicated that people should "Come on out, bring your wife or girl and see your city from the air. It does look different."
A news report in 1932 indicated that the land was then "… the old Brightwood Airport."
On Sept. 18, 1945, the front page of one section of The Indianapolis Star noted that a new Brightwood Airport was being proposed by the Marion County Aviation Board. In October 1945, news reports indicated that the new airport was approved for operations by the Marion County Plan Commission. The site included 200 acres between Massachusetts Avenue and 21st Street near the rail yards that once operated in Brightwood. Advertisements started being published on Oct. 20, 1945, noting the Brightwood Airport was "Indianapolis' Downtown Airport."
A promotion was run from the Brightwood Airport in July 1948 to give away 12,000 fresh cut roses to people who picked up "streamer cards" dropped from an airplane. An advertisement from "Indianapolis' Progressive Florists" announced that streamer cards were going to be dropped from the "Rose Special Airplane" flown from Brightwood Airport during a two-hour time period on July 15. Recipients of the streamer cards would able to redeem each card for a free rose at a participating florist in Indianapolis.
This "new" Brightwood Airport did not last long.
During the late 1940s, the site of the airport was proposed as the new location of a produce market. This new market was designed to replace and enlarge operations for business that bought and sold food products in the Greater Indianapolis Area.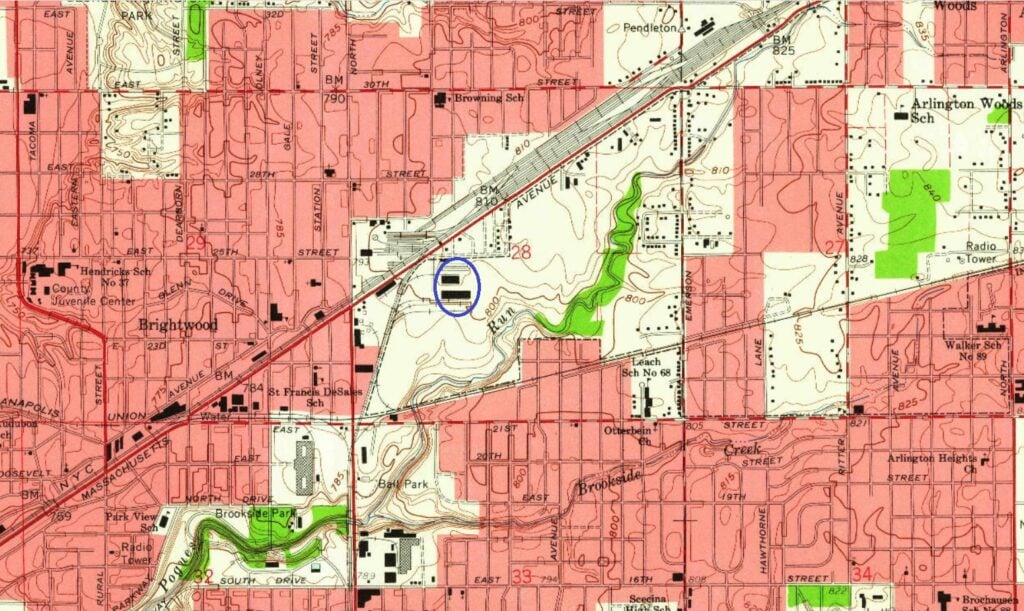 "The independent dealers [of fruits and vegetables], for the most part, are located on South New Jersey Street, East South Street, South East Street, and Virginia Avenue," according to The Wholesale Produce Market at Indianapolis, Ind. issued by the U.S. Department of Agriculture in June 1950. "Brightwood Airport … has many advantages as a possible location for a new market."
A report issued by the American Society of Planning Officials in Jan.1955, noted the Indianapolis Produce Market opened on the site of the former Brightwood Airport on Sept. 20, 1954. Information Report No. 70 issued by this organization indicated it cost $2.5 million to build the new facility that was "… the result of nearly seven years of study. In 1947, a group of fruit and vegetable dealers, seeing that the present market could not handle the increasing volumes of produce handled in the city, began to look for a suitable site for a new market. In 1948, a site [the Brightwood Airport] was purchased and plans prepared for a new market."
Brightwood Airport operated for some time after its land was sold for the new produce market. The exact date when flights ended at the airport is not certain though it appears to may have been sometime in late 1951 or early 1952.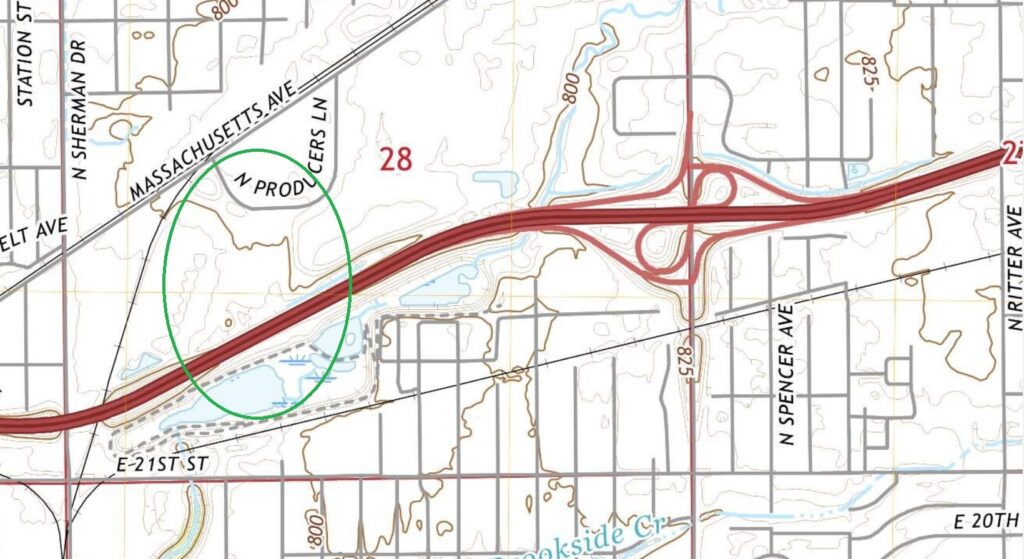 Do you have questions about communities in Indianapolis? A street name? A landmark? Your questions may be used in a future news column. Contact Richard McDonough at whatsinanameindy@usa.com.