Local Democrats finally did away with slating, that weird, controversial, complicated candidate endorsement process that by the end of its life left as many people fuming as it did fed.
Just in time, too, because this year Indianapolis voters will elect a new mayor and city-county council members. Unlike in elections past, there (theoretically) won't be a big asterisk next to certain Democrats' names in the May primary saying "PICK ME! THE PARTY LIKES ME MORE!"
Slating was portrayed by its critics as a form of insider trading, where party outsiders and newcomers rarely stood a chance to gain an official endorsement, which meant they didn't get the same resources as the party's preferred candidates.
Now that it's officially a thing of the past, it's time to see who, if anybody, attempts to claim victory here.
Will it be Mayor Joe Hogsett? There's an argument to be made that without his willingness to step in last year and say slating is an outdated practice, Democrats would be gearing up for the same pre-primary process for 2023. That would mean all the same fights, all the same finger pointing.
Hogsett is going for his third term as mayor and, as an incumbent, realistically would have benefited from having slating in place just a while longer.
Hogsett praised the move in a statement from his campaign after party chair Myla Eldridge announced the change Jan. 1, saying it became clear in recent years that the party's endorsement process "no longer serves a purpose."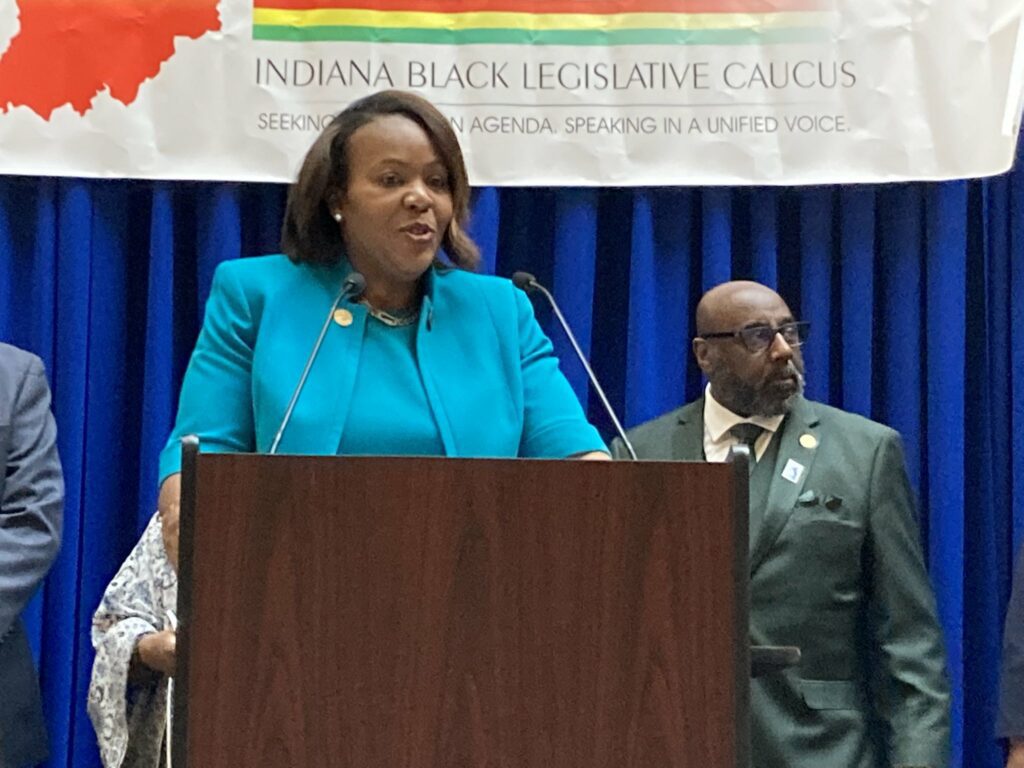 One of Hogsett's opponents in the Democratic primary, state Rep. Robin Shackleford, can also stake her claim to this win. She was one of several Black elected officials to stand in front of the Statehouse in February 2022 and say then-county party chair Kate Sweeney Bell needed to resign. The issues didn't stop at slating; Shackleford said the local party needed to "take a hard look at how we treat and support minority candidates."
Sweeney Bell did resign, and now a Black woman, Myla Eldridge, leads the party.
In a statement provided by her campaign, Shackleford said she and her colleagues consider the change "a win toward progress."
"Now, whoever puts in the most work in getting their messages out to the people will have the advantage; this move will level the playing field," she said. "The elimination of slating puts power back into the hands of the people."
Then there are the candidates who in 2022 ditched slating and ran without the party's endorsement. They included Shackleford, whose move was strictly symbolic as she ran for her seat in the state House of Representatives unopposed in the primary and general elections.
Faith James Kimbrough did the same thing with more risk attached, defeating a party-endorsed candidate in the primary on her way to becoming Marion County recorder.
It's a fair question: What if Black women hadn't bucked the system and beat it?
We can look back even further, to early 2019, when young Black political hopefuls Belinda Drake and Dee Ross were left off of the primary ballot. Their issue was more broadly about ballot access — the part said they hadn't voted in primary elections, which was technically disqualifying — but still brought attention to the quirkiness of slating.
Drake and Ross have stayed active since then, by the way. It's hard to find a problem in Indianapolis that one or both of them aren't trying to fix.
The question of who deserves to stand over slating's grave is easy: It's a lot of people, including some who would likely benefit from the practice about five months from now.
But will any candidates for office attempt to do that? If so, they might risk giving the impression that they're trying to overshadow what amounts to a team win. Then again, leaving this one unclaimed could be a missed opportunity.
Contact senior staff writer Tyler Fenwick at 317-762-7853 or email tylerf@indyrecorder.com. Follow him on Twitter @Ty_Fenwick.