The Fever are a quarter of the way through the WNBA regular season, with nine games down. Indiana infamously owned four first-round picks and seven overall picks in the 2022 WNBA Draft. Two of those picks got released, but how are the other five doing?
While the big Fever news at the moment is head coach Marianne Stanley being let go, the progress of these five rookies is still the biggest storyline of this Fever season. Let's check in on how those rooks are performing.
NALYSSA SMITH (NO 2. OVERALL, BAYLOR)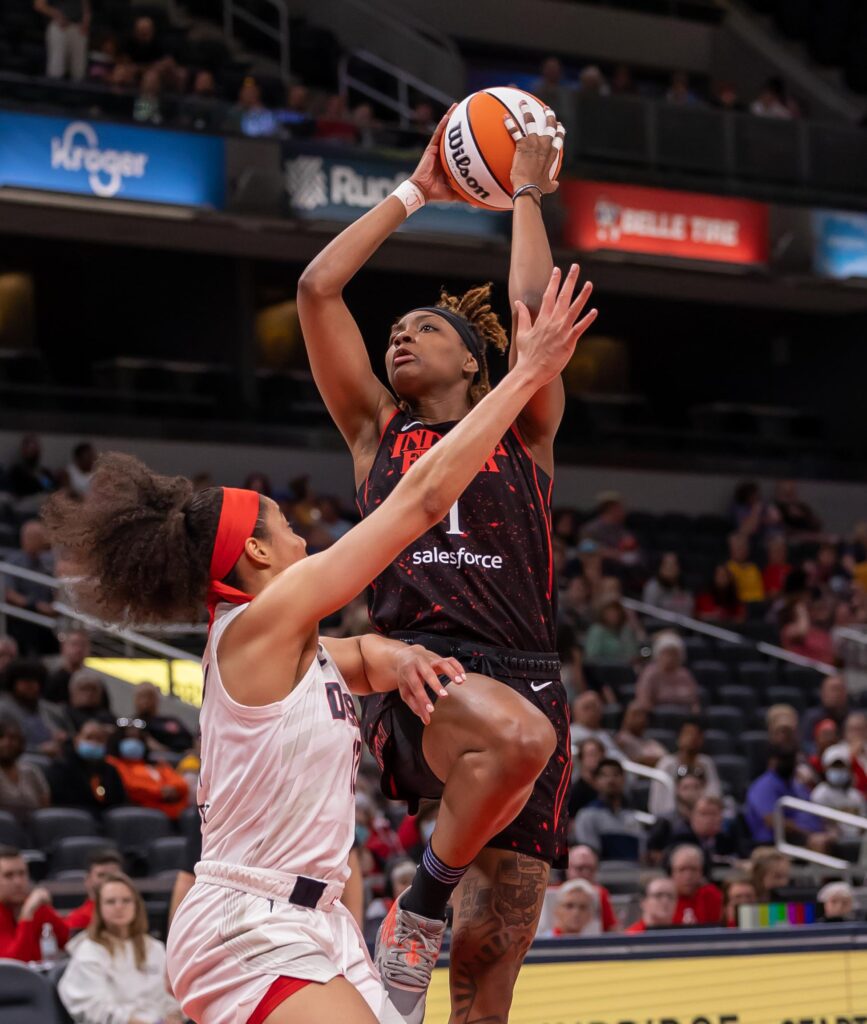 NaLyssa Smith was selected second overall in the draft by the Fever. Unfortunately, Smith has missed the last four games with a right ankle sprain.
In the five games she has played, Smith is averaging 13.0 ppg, 10 rpg and 1.6 apg.
In her debut against the Mystics, Smith had a 13-point, 13-rebound double-double. Smith recorded 17 rebounds against the Mystics on May 13, which is the second-most in a game this season. The team's defensive rebounding has tailed off significantly since Smith's injury, as the Fever have had a defensive rebound percentage below 70 percent in three consecutive games.
Per Her Hoop Stats, Smith ranks in the 93rd percentile with a 17.7 percent total rebound rate.
Smith has struggled offensively, specifically with her efficiency. The 6-4 forward is shooting just 40 percent from the field, 30.8 percent on 3s and 40.9 percent on free throws. Smith shot 76.8 percent on free throws in her career at Baylor, so her early struggles at the line in the WNBA are unexpected.
Smith is shooting below league average on 2-pointers, 3-pointers and free throws. Smith has a 43.5 percent true shooting percentage, which weights the value of all three types of shots. She is in the 19th percentile among WNBA players in true shooting percentage. It is early in the year, but Smith will be looking to improve her efficiency by the next check-in.
EMILY ENGSTLER (NO. 4 OVERALL, LOUISVILLE)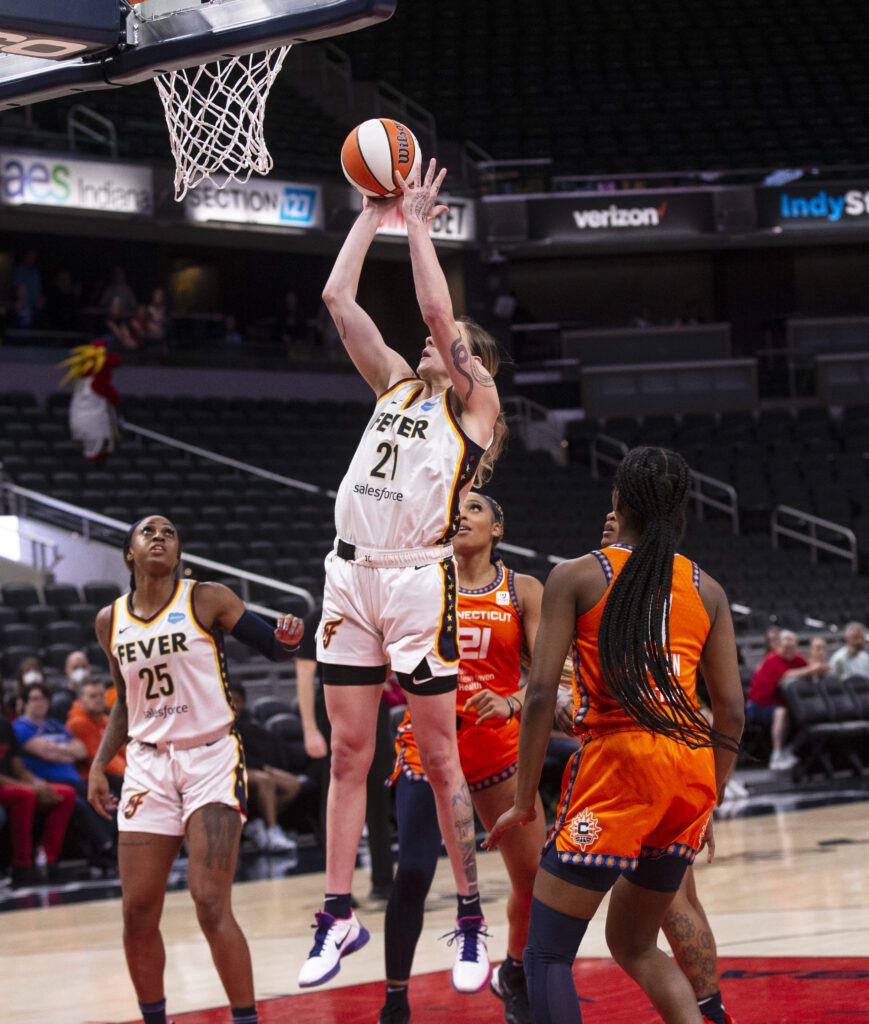 Emily Engstler was drafted for two main reasons: Her defense and her rebounding. Through nine WNBA games, Engstler has excelled in two areas: Defense and rebounding.
Engstler is averaging 6.8 ppg, 7.1 rpg, 1.4 apg and 1.1 bpg.
Due to Smith's injury, Engstler has been the Fever's starting power forward for the last four games. Her best game came on Tuesday against the Sky, as Engstler recorded 11 points, 13 rebounds, four rebounds and two blocks. Engstler became the fifth rookie ever to record at least 10 points, 13 rebounds, four assists and two blocks in a game.
Per Her Hoop Stats, Engstler's 21 percent rebound rate ranks third in the WNBA. Her 4.5 percent block rate is in the 89th percentile of the league.
Engstler (along with Queen Egbo, who we'll get to later) has been asked to guard the likes of Candace Parker, Elena Delle Donne, Liz Cambage, Nneka Ogwumike, Jonquel Jones and Brionna Jones early in her young career. There have been moments where she's held her own and moments where her youth has hurt her, but there have been enough flashes to be optimistic about Engstler's defensive upside.
Like Smith, Engstler has struggled to make an offensive impact in the shooting department. She is shooting 38.9 percent from the field, 17.6 percent from 3 and 40 percent (2-for-5) on free throws. Engstler's true shooting percentage is at 41.1 percent, which is in the 10th percentile in the WNBA.
Another issue for Engstler has been foul trouble. Engstler is averaging 3.7 fouls per game while playing just 19.4 mpg. Her 8 percent foul rate ranks in the fourth percentile in the WNBA.
Engstler's fouling issues have contributed to the Fever giving up the second-most free-throw attempts per 100 possessions in the WNBA. These foul issues have prevented Engstler from playing consistently-great defense. If she can clean that up going forward, she may be the best rookie defender in this class.
LEXIE HULL (NO. 6 OVERALL, STANFORD)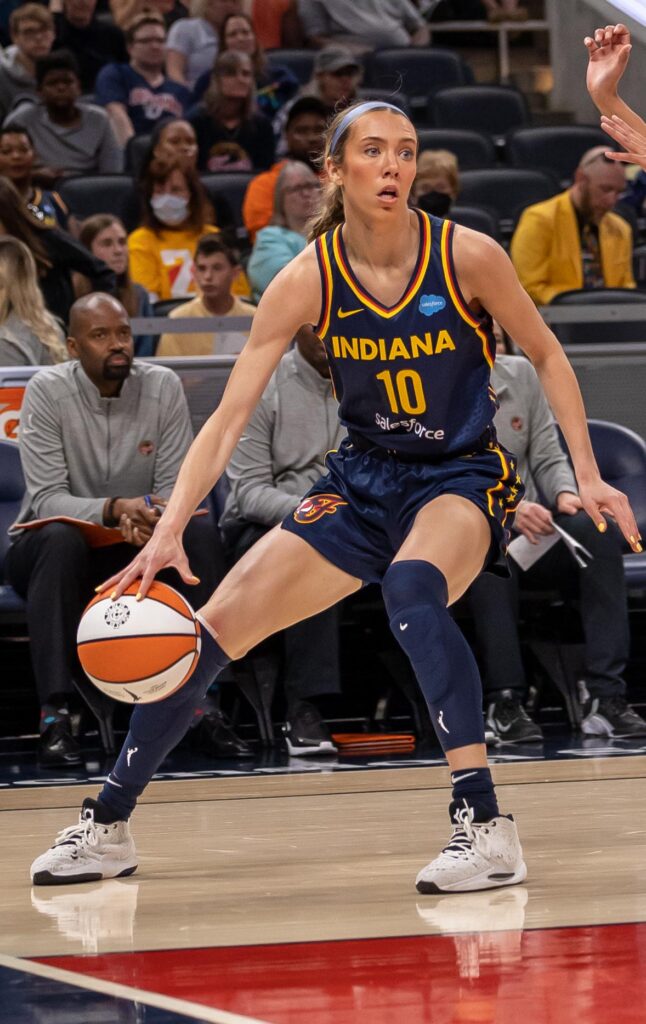 Lexie Hull has played the least of any of the Fever's five rookies. The 6-1 guard has only logged 61 minutes of action and was a healthy scratch in two of the team's games.
Hull didn't record a point until her fourth game—the team's fifth game—on May 15 against the Atlanta Dream. Hull's best night came two nights later against the Dream when she scored six points and made all three of her 2-point attempts.
Hull was drafted due to her superb shooting—she shot 37.4 percent on 3s in her college career. But so far in limited WNBA action, Hull has not been able to replicate that success, shooting 2-for-14 (14.3 percent) from beyond. She's also made just three of her nine 2-pointers, so Hull's offensive impact has been underwhelming.
The Fever have been outscored by 29.9 points per 100 possessions when Hull is on the floor. Although the team believes she has defensive potential, she was never going to be an impactful defender in her rookie season. Her offensive struggles are very concerning considering that's why she was drafted.
The bright side is that Hull has an extremely limited sample size, which means her numbers could swing significantly if she goes on a hot streak. We'll see if the team's coaching change impacts the role and effectiveness that Hull has on the team.
QUEEN EGBO (NO 10. OVERALL, BAYLOR)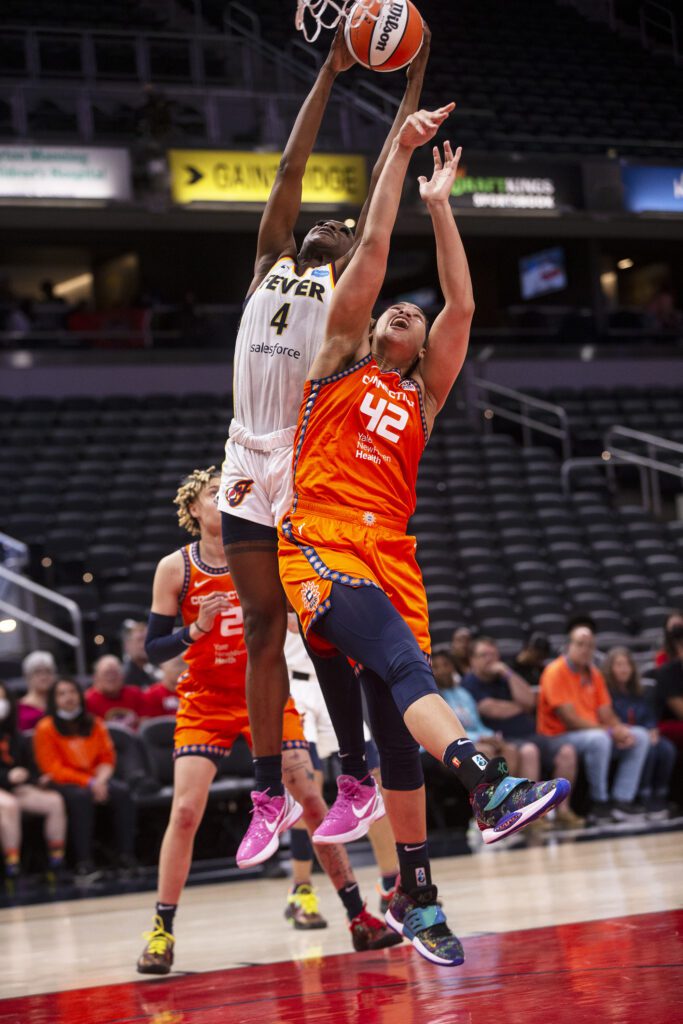 Queen Egbo was projected to be a second-round pick, but the Fever took her 10th overall. So far, it has paid off.
Egbo is averaging 7.3 ppg, 7.7 rpg, 1.6 apg, 1.4 bpg and 1.2 spg.
Egbo has started at center in eight of the team's nine games. Egbo's most impressive game came when she had eight points, 14 rebounds, four assists and two blocks against the New York Liberty on May 13. Her best scoring output was when she scored 12 points against the Atlanta Dream on May 17.
Like her rookie frontcourt counterparts, Egbo has been a tremendous rebounder early in the year. Per Her Hoop Stats, Egbo is fifth in the WNBA with a 28.2 percent defensive rebound rate. Her 17.9 percent total rebound rate is in the 95th percentile of the league.
Egbo has also had active hands defensively. She is in the 90th percentile with a 4.8 percent block rate and her 2.1 percent steal rate is the second-highest of any center. Egbo has been able to use her athleticism and timing to get deflections.
Foul trouble has been an issue for Egbo as well. Egbo averages 3.8 fouls per game and has a 6.6 percent foul rate, which is in the 14th percentile of the WNBA.
A big reason for these fouls is Egbo being outmuscled by larger centers. Egbo is listed at just 190 pounds, whereas most WNBA centers weigh 10-20 pounds more than Egbo. While Egbo probably won't be able to get much bigger and stronger this season, increased strength down the line should help her foul issues.
Egbo, who hasn't attempted a 3-pointer, is shooting 50 percent from the field and 62.5 percent at the free-throw line. Egbo's largest offensive issue has been turnovers. Egbo averages 2.8 turnovers per game and has a 28.4 percent turnover rate, which is in the bottom 10 percent of the WNBA.
Queen Egbo was drafted 10th overall as a raw prospect. Her athleticism has done her wonders early in her career. While there's still finetuning to be done to her game, it appears the Fever nailed this selection.
DESTANNI HENDERSON (NO. 20 OVERALL, SOUTH CAROLINA)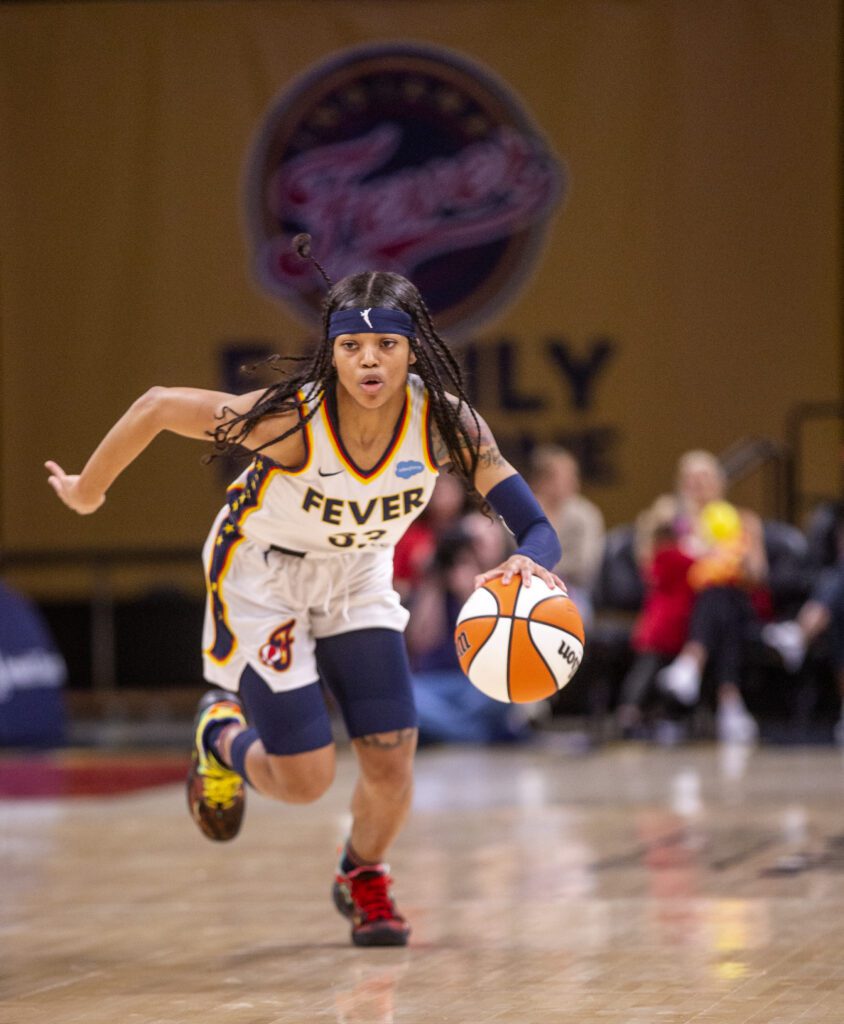 As she's already a fan favorite, Destanni Henderson has brought quite the spark to this Fever team. "Henny" has impressed fans all over the league early on.
Henderson is averaging 7.9 ppg, 1.6 rpg, 3 apg and 1 spg.
Henderson started the first three games of the year before Danielle Robinson returned from playing in Turkey. Henderson's best moment came when she dropped 19 points in the second game of the season against the L.A. Sparks.
What's been most impressive is Henderson's 58.8 percent 3-point shooting. The sample size isn't large, as she's 10-from-17 from deep. But that type of 3-point shooting from a rookie is always valued.
Passing has been another main strength for Henderson. The ability to be a floor general and a leader made Henderson such an enticing prospect coming out of college. She has not disappointed in that department.
Henderson's 27.8 percent assist rate ranks 14th in the WNBA. She has an assist to turnover ratio of 3.00, which ranks ninth in the league. Henderson has shown that she can create shots for her teammates at a high level.
Two-point shooting has been a weakness of Henderson so far. She has made just 14 of her 43 2-point shots (32.6 percent). Henderson has made just 37 percent (10-of-27) of her shots within five feet, per WNBA.com. Henderson's shot selection and finishing need improvement going forward.
Defensively, Henderson hasn't made much of an impact. Henderson has been able to average a steal a game, but the team's defense hasn't been great with her on the floor.
Henderson has brought life and energy to the Fever, and there are still areas for her to tighten up in for the rest of the season.
Zion Brown is a sports reporter for NextGen Sports, a collaboration with The Recorder Media Group. Stats provided by herhoopstats.com, basketballreference.com, and WNBA.com.